Chris Laney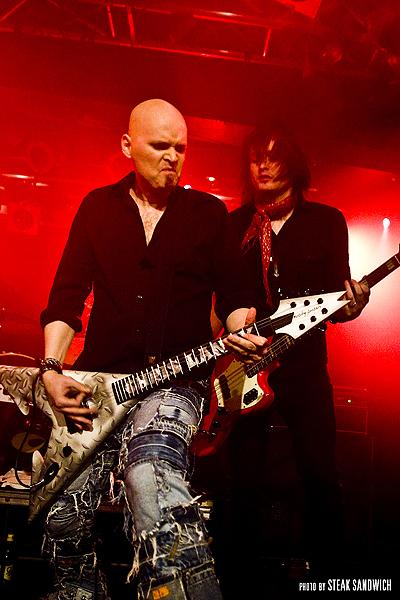 Interview with Chris Laney by Ove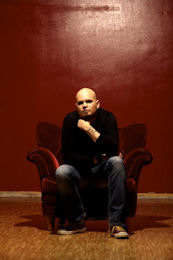 Hello Chris, thank you so much for giving Blizz Of Rock this interview
Chris: Thank YOU for having me *Smiling*
First of all Chris, I'm honored to talk to the lead guitar player behind great rock bands such as Randy Piper's Animal and Zan Clan
I am really not sure where to begin. When did it all start?
Chris: It all started back in 85, when I at the age of 13 started in a band called Scratch. Within a few years I had done alot of touring and a few records.I knew pretty early that this was the stuff  I wanted to do for the rest of my life. But it all had it's up and downs and at the age of 23 I moved to Stockholm to make my dreams come true. I hooked up with songwriters and producers and now, here I am!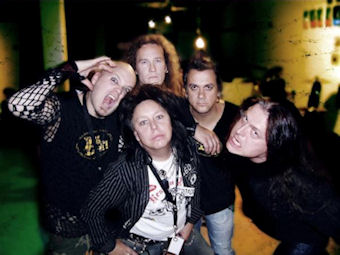 Zan Clan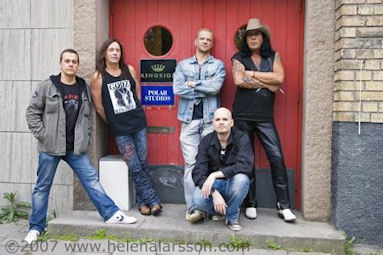 Randy Piper's Animal
What was the first instrument you bought?
Chris: The accordion and Drums.
Would you choose otherwise if you could go back in time?
Chris: Nope, It is fantastic to be able to play lots of instruments. For me music is by heart and not only tech. I would say I am good enough on drums, but I am not near as good if it was the only instrument around.
There is really no need to hide the fact that you have received a couple of Grammy's and been nominated, what is it 7 times? How did this come about?
Chris: Well, I have one Swedish Grammy for Barbados (swedish dansband) and one for Candlemass (doom band), I call them Heaven & Hell *hahahaha*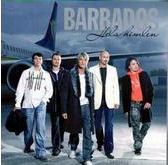 Barbados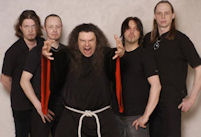 Candlemass
The other nominations are for songs I've written for tons of different bands/artists.
I am speechless when I see witch artists and bands you have worked with up through the years. Just to mention some of my favorites; Europe,  guitarist Randy Piper(X-W.A.S.P. 1982-1986)  and guitarist Bruce Kulick (Kiss 1984 – 1996). What has this done to Chris Laney?
Chris: It's been fun!! I mean, I am a music fan, and I don't really care who the artist is, as long as they love music as much as me. But of course it is fun to work with your idols.... it makes you satisfied;)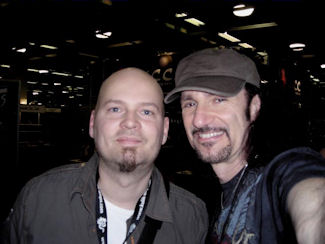 Chris and Bruce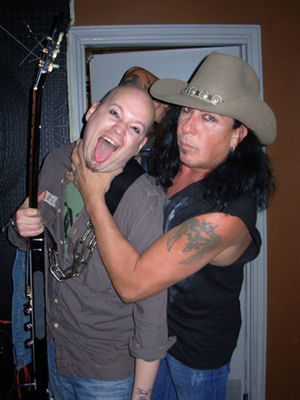 Chris and Randy
You have released 2 albums with Randy Piper's Animal(2006-2008) and 2 albums with Zan Clan(2005-2006) how did this come about?
Chris: Well me and Zinny started writing for his 2nd solo album, BUT he wanted me to start a band with him. And since he is one of my heroes, I didn't even think a sec. saying HELL YEAH.
With Piper it took some time before we got everything together, but on the other hand, we live on different continents.... I am very proud of what came out of these bands.
Now you have "settled" down , and are releasing an album called "Pure" the 27 of march 2009. Why did you want to go Solo on this album? Any particular reason?
Chris: The timing was perfect!!! Thats pretty much it. I have already started writing for a follow up and the album was pretty much just released, that is how happy I am right now, the time of my life.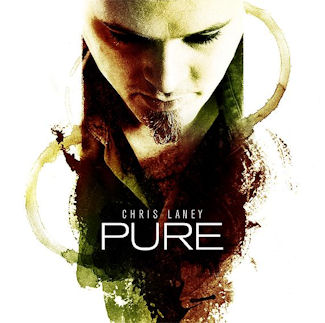 On this album you have still some very good friends by your side…Vic Zino (Hardcore Superstar), Martin Sweet(Crashdïet) Zinny Zan(One of my favorite bands "Shotgun Messiah") Nalle Pahlsson(Treat) . If you ask me what I think… WOW…. Is it really possible to live without this album?
Chris: Hahahahahahaha, I like you;)
Where can we find the albums, where could we buy the music from Chris Laney?
Chris: The album is released in many many countries around europe. If you can't find it in your local recordstore, try out CDON.com , aorheaven.com or webshops like that.
Is it possible to see Chris Laney live on tour with the new album/band?
Chris: Yeah! we just did two shows this weekend, 1 hour of Kick ass rock.
I have a very talented band with me. 3 guys from the band Dynazty, Rob Love, George Egg, John Berg.
I also just added Fredrik Bergenstråhle on bass, kick ass band.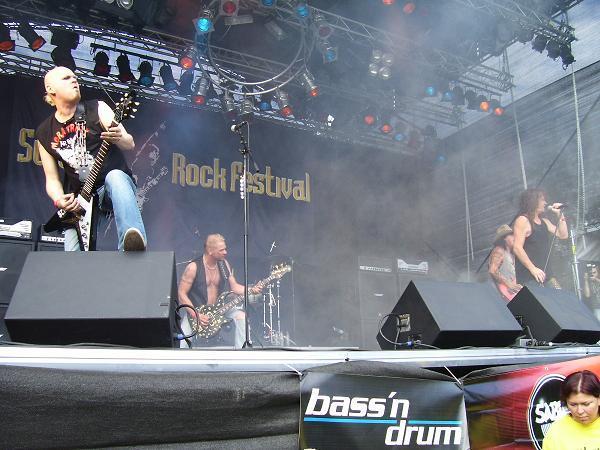 Randy Piper's Animal (Sweden Rock festival)
Any bands or artists you would love to have with you on your tour?
Chris: I'd play with anyone, anywhere right now....I only wanna go out and show off my live set, I am so thrilled.
If there was one place in the wide world that you could play Chris where would that be?
Chris: hmm.....I'd love to play in Tokyo.... Since I got the KISS 77 show on VHS back then, that has been my dream.
Where do you get your influence? Where does the person Chris Laney get all his ideas?
Chris: My influences comes form varies types of music. I can enjoy Brittney Spears, Norah Jones as well as Primal Fear, Judas Priest and Kiss, Def Leppard...as long as there is good songs, I pretty much don't care what style it is. But my heart belongs to the 80's kind of LA scene.
Since you've got a lot of experience, I want to ask you what you think a new artist should be aware of. Maybe you even have some good experience to share with "young" dreamers, and maybe give them a head start.
Chris: Don't spread too much "low quality" stuff around. You may just get one shot...Make sure it is fuckin brilliant so you don't have to worry when people say it sucks... People can tell me my album stinks, but I KNOW, I did MY best...then their words just wears off.
What's your opinion about Rock 'N' Roll coming back?
Chris: It never died, It just took some rest getting back with more power...hold on tight, this is just the beginning of a new wave of Rock.
What sort of age group are you attracting with your music?
Chris: Pretty varied to be honest.
Saturday nights audience was a mix between 18-40. Girls and boys, pretty cool if you ask me!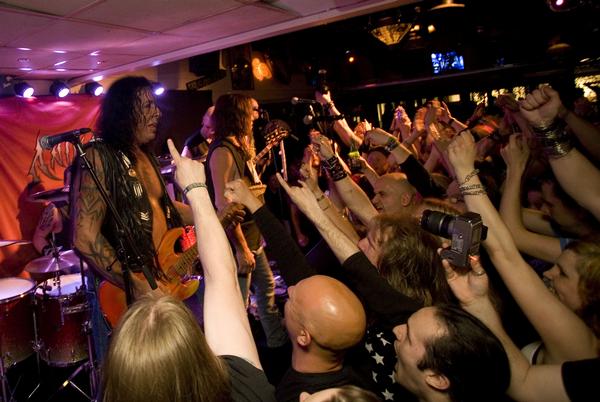 If you got the chance to have a concert in Norway, what could we expect from Chris Laney?
Chris: I'd play my heart out, try to get you banging your head smiling. I want my audience to have a blast, party feel. I do my best to entertain.
I have read that you know how to play a lot of instruments. Is there any instruments you would love to learn how to play, that you don't?
Chris: Cello!
If you could turn back the time and choose a new date to start a band, when would that be? And why this year/decade?
Chris: 1972, So I could be in New York and take Ace Frehleys spot in KISS *hahahaha*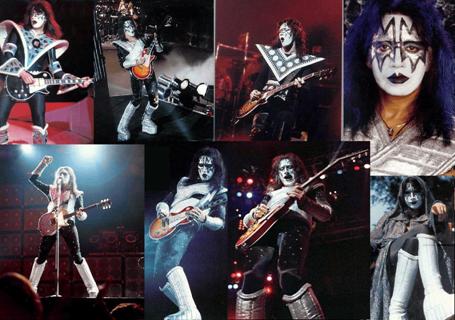 Ace Frehley
What is the highlight of your career as a rock musician?
Chris: I dunno to be honest, I think my highlight is about to come. But getting the job at Polar Studios must be it for now....that is awesome.
Anyone you would love to meet, that you have not met yet?
Chris: My biggest hero, Paul Stanley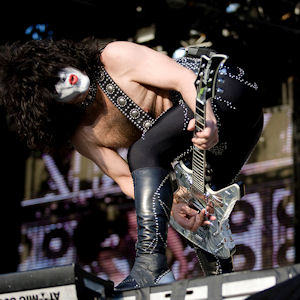 Paul Stanley
What is your opinion about Blizz Of Rock? (www.blizzofrock.com)
Chris: A really cool place to spend a few hours at! Hope you keep the site up and running, good work buddy!
Thank you so much Chris for taking time to answer these questions.
Chris: Anytime man, My pleasure!
Blizz of rock wishes Chris all the best, Please drop by again