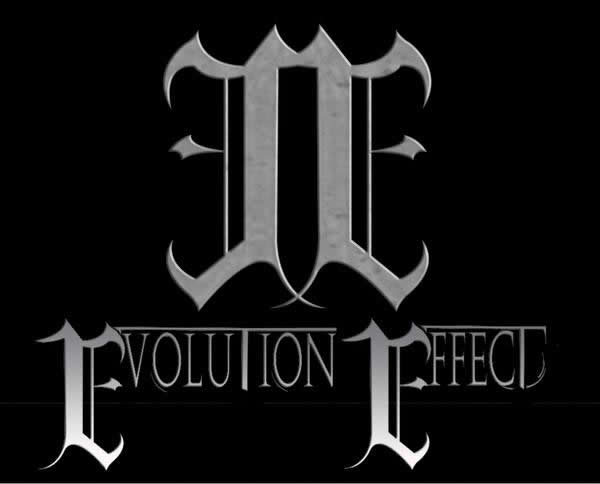 Interview with Erik from Evolution Effect by Ove
Hello Erik, thank you so much for giving Blizz Of Rock this interview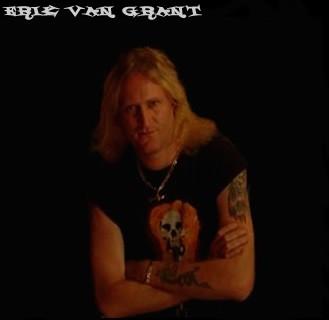 Erik: MY PLEASURE
First of all Erik, I am honored to talk to the lead singer behind the great rock band Evolution Effect.
Erik: THANK YOU VERY MUCH, PLEASURE TO BE HERE
When was the band Evolution Effect formed? What is the story behind the name?
Erik:  WE FORMED IN EARLY 2007, AND AFTER ABOUT 200 NAMES AND "BLIND THE SAURUS" PICS, YOU KNOW WHEN YOU CLOSE YOUR EYES AND JUST POINT ON A PAGE AND SEE WHAT WORD YOU GET? SOMEONE THAT WAS HANGING OUT AT REHEARSAL SAID, THAT WE HAD EVOLVED IN THE FEW SHORT MONTHS OF BEING TOGETHER, ITS LIKE EVOLUTION EFFECT, ALTHOUGH NOT THE MOST EXCITING STORY IN THE WORLD, IT HAPPENED SIMPLY LIKE THAT
You have just released your first album, how did that come about?
Erik:  WELL, WE HAD INITIALLY GONE INTO THE STUDIO,POWERSTATION STUDIOS/BONGIOVI ENTERTAINMENT AND RECORDED 5 TRACKS WITH OUR  PRODUCER ROB ROY, AND OUR ENGINEER JOE BUETERRA. WE TOOK THOSE 5 SONGS PLUS A FEW OTHERS THAT ARE NOT ON THE ALBUM AND DID A SMALL RUN OF GIGS TO TEST THE WATERS AND SEE THE RESPONSE. IT ACTUALLY BECAME QUITE OVERWELMING WITH THE REACTION WE GOT, AND THE FOLLOWING THAT BUILT UP IN SUCH A SHORT TIME. WE TEN WENT BACK INTO THE STUDIO AND RECORDED THE OTHER 5. AFTER WEAKING AND MASTERING THE TRACKS, WE DECIDED TO LEAVE THE ALBUM 9 TRACKS AND HOLD THE 10TH. AND NOW, THE ALBUM HAS BEEN RELEASED ON CDBABY, ITUNES, AMAZON AND WALMART WEBSITES, EVEN THOSE JUKEBOXES YOU SEE IN BARS THAT SAY TOUCH TUNES,OUR SALES OVER THE LAST FEW DAYS HAVE BEEN AMAZING
There are 10 tracks on this album. Which was the first song written for the debut album?
Erik: I BELIEVE THE FIRST SONG WRITTEN WAS "X", WHICH IS WHY WE WENT WITH THE TITLE "InjeXion", AMONG OTHER SEXUAL THOUGHTS AND REASONS *LOL*, IF YOU CHECK OUT SOME OF THE OTHER SONGS , THEY DO  HOLD A SEXUAL THEME
What is your favorite track on the album, Erik?
Erik: FOR ME IT WOULD BE "Silence", THAT SONG COMES WITH ALOT OF THE PAIN FROM THE PAST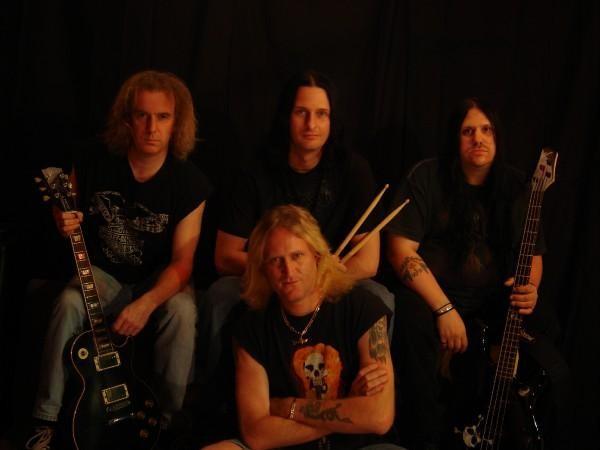 Does Evolution Effect have excess material to be released on a future album?
Erik: ACTUALLY WE HAVE ALL THE SONGS SORTED OUT FOR ALBUMS 2 AND 3 BUT WE DON'T WANT TO BE ONE OF THOSE BANDS THAT RELEASE 5 ALBUMS IN 7 MONTHS, YOU HAVE TO GIVE SPACE AND BREATHING ROOM FOR YOUR ALBUMS
The song called Silence is a master piece. There is something about it that remind me of a great band called Dogs d amour? Who write the songs and the lyrics?
Erik: VIC ALWAYS WRITES THE RIFFS AND MELODIES, I WROTE THE LYRICS, THAT SONG IS ABOUT THAT ONE BIG FIGHT AT THE "NEAR" END OF A RELATIONSHIP, WHEN THE FIGHT IS OVER, AND YOUR LAYING IN BED, BUT IT'S SO QUIET ,IT'S COLD, AND YOU CANT FIND ANYTHING ELSE TO SAY, YOU KNOW WHEN THE TENSION IS SO THICK IT'S HARD TO BREATHE, WE HAVE ALL BEEN THERE AT ONE POINT, AT LEAST I HAVE
Erik, you bought your first guitar at the age of 15. I understand there has been a long way to the top. How would you describe it? And if you could give new artists a head start, what would you tell them?
Erik: UM, YEAH I GUESS YOU CAN SAY LONG WAY, BUT, WITH THIS BAND WE HAVE BEEN SO FORTUNATE TO KNOW THE RIGHT PEOPLE THAT MADE IT WORK FOR US, AS FAR AS ADVICE FOR THE NEW GUYS, I CAN GIVE YOU A QUICK FEW POINTERS.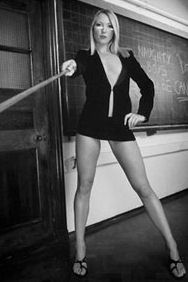 #1. NEVER AND I MEAN NEVER PAY FOR ANYONES SERVICES UP FRONT, LIKE MANAGERS, BOOKING AGENTS, ENTERTAINMENT AGENCIES ETC...THIS MOSTLY IS SOMETHING YOU CAN DO YOURSELF. AND THESE PEOPLE MUST BOOK YOU AND ADVERTISE  FOR YOU ON A COMMISSION  BASIS ONLY, WHEN YOU PLAY THEY GET PAID, LIKE YOU WILL, THE MORE THEY BOOK YOU AND THE BIGGER YOU GET, THE MORE CASH THEY WILL MAKE. SO NOTHING OUT OF POCKET FROM YOUR BAND TO THEM. IF THEY ASK, THEY ARE FULL OF SHIT AND YOU WILL LOOSE YOUR MONEY ,FIND SOMEONE ELSE
#2 IF YOU'RE GOING TO PLAY A VENUE, LOOK THE PART!!!! I STRESS THAT....EVEN WHEN YOU'RE GOING OUT WITH FRIENDS, LOOK LIKE YOU ALREADY ARE SOMEONE IN A FAMOUS BAND. TRUST ME...PLAY THE ROLE EVEN OFF STAGE
#3 DO NOT HAVE AN EGO!!!! NO ONE WANTS TO DEAL WITH AN EGO MANIAC. AND THERE IS ALWAYS SOMEONE BETTER OUT THERE THAT'S A COOL SON OF A BITCH.
#4  THE MOST IMPORTANT RULE OF ALL ...NEVER EVER GIVE UP. I DON'T CARE WHAT PROBLEMS YOU HIT, ALWAYS BELIEVE IN YOURSELF AND YOUR BAND. NO MATTER WHAT. TRUST ME IF YOUR GETTING INTO THE MUSIC BUSINESS IT NEVER GOES SMOOTH AND IF IT DOES, IT'S TOO GOOD TO BE TRUE....OH AND ALWAYS HAVE A LAWYER HANDLE ALL LEGAL SHIT
Where may we find the albums, where could we buy the music from Evolution Effect?
Erik: YOU CAN PICK IT UP ON ITUNES, AMAZON, OR THE WHOLE ALBUM ON SALE FOR 7.99 ON CDBABY.COM
What does Myspace mean to Evolution Effect? I know you have got among 10 000 friends and 3 street teams. Anyone you would like to thank?
Erik: WELL, WE'D LIKE TO THANK MYSPACE TO START, THAT FOR BANDS IS THE BEST TOOL YOU CAN USE, AND ITS FREE, WE'D LIKE TO THANK OUR STREET TEAM LEADER FOR ALL THE HELL SHE GOES THROUGH RUNNING THESE SITES AND KEEPING TEM ALL UPDATED. SHE HAS BEEN AN ANGEL WITH GOLDEN WINGS, THANKS JENNY JEN. ALSO EVERYONE OF OUR FANS AND FRIENDS, NEW AND OLD THAT HAVE SUPPORTED US, ADDED US, COMMENTED US, AND CAME TO OUR SHOWS, WE LOVE YOU GUYS TO DEATH!
I have heard an interview with Eddie from (Rock in your face) magazine.  And in the interview you praise your women for being very supportive.  What have they meant for the band?
Erik: WELL IF IT DIDN'T WORK OUT I'D BE WRITING "SILENCE PART 2". *LOL* THE WOMEN HAVE BEEN UNBELIEVABLE IN SUPPORTING US, THEY HAVE PUSHED US WHEN WE SLOWED DOWN AND HAVE SUPPORTED US THROUGH THICK AND THIN, AND THERE IS MUCH LOVE FOR THEM TOO, NOT ALL MUSICIANS GET LUCKY LIKE THAT,AS SOME OF YOU GUYS MIGHT BE GOIN' THROUGH RIGHT NOW, GIVE THEM A COPY OF "Silence" AND HAVE MAKE UP SEX *LOL*
Is it possible to see Evolution Effect live on tour?
Erik: ACTUALLY WE JUST FINISHED AN EAST COAST TOUR AND AT THE END OF THIS YEAR WE ARE SETTING UP AN EUROPE TOUR THAT WILL RUN ABOUT 3-4 WEEKS. THAT'S GONNA BE GREAT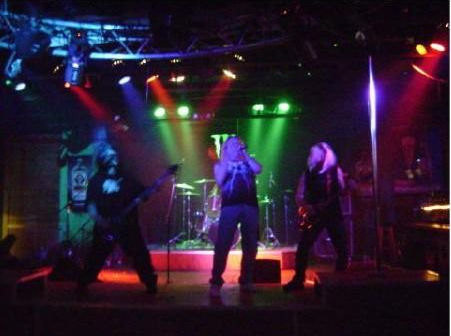 Any bands or artists you would love to have with you on your tour?
Erik: ONE OF MY FAVORITES IS CANDLEBOX, I'D LOVE TO HAVE THEM OUT THERE WITH US, ACTUALLY TRYING TO BOOK A SHOW WITH THEM RIGHT NOW FOR THE NEXT FLORIDA RUN THEY MAKE, BUT WE WILL SEE, ANOTHER BAND I LIKE IS AMERICAN ANGEL. I WOULD LIKE TO DO A SUPPORT SLOT WITH SHINEDOWN, THOSE GUYS ARE AMAZING TOO
I have found some music videos at www.youtube.com . Correct me if I am wrong, but this is from a live performance?
Erik:  YES, *LOL*, ACTUALLY I THINK THERE IS VIDEO FROM OUR FIRST JAM ON THERE TOO UNLESS SOMEONE DELETED IT , BUT THERE IS A BUNCH OF LIVE SHOWS UP ON YOUTUBE TO WATCH  
If there was one place in the world wide that you could play Erik where would that be?
Erik:  HMM.....IN THE WORLD......ANYWHERE IN EUROPE, LIKE SWEDEN, NORWAY, LONDON ETC....OUR GUITARIST IS FROM SCOTLAND AS I SAID, AND HE HAS CONNECTIONS TO GET US INTO ALL THE "HAUNTED" CASTLES SO I THINK I'D LIKE TO START THERE
Evolution Effect is a rock band , Where do you get your influence?
Erik: JEEZE, WELL OUR GUITARIST IS FROM SCOTLAND, WAS IN A PRETTY BIG TOURING BAND THERE, HE WAS VERY BIG INTO PUNK, STILL IS, AND GUNS N' ROSES, WHICH I THINK IN SOME SONGS YOU CAN PICK THAT OUT, OUR DRUMMER IS LIKE KINGS X, JOHN BONHAM, PORTNOY ETC....BASS PLAYER IS A KISS FREAK, I DON'T THINK MANY PEOPLE HAVE MORE KNOWLEDGE ON KISS THAN HE DOES, AND FOR ME, FASTER PUSSYCAT, OZZY, CANDLEBOX.....IT'S REALLY A COMBO OF ALL SORTS OF DIFFERENT ROCK, I THINK THAT'S WHY WE BLEND SO WELL, AND OUR SECOND ALBUM IS DEFINITELY A HARDER HITTING COMPILATION  
Do you feel that Evolution Effect have their own style?
Erik: YES DEFINITELY, I MEAN YOU CAN SAY WE SOUND LIKE THIS OR THAT, BUT YOU CAN'T PUT YOUR FINGER ON IT, OR THEY RESEMBLE, BUT NOT EXACTLY, IT'S ALL THOSE STYLES WITHIN THE BAND THAT GIVE US OUR SOUND  
What is your opinion about the Rock n roll coming back? (If it ever was gone)
Erik: WELL IT WASN'T GONE, IT JUST TOOK A SMALL VACATION *LOL*, I MEAN , IF YOU LISTEN TO HINDER, THEY ARE THE MODERN DAY MASTERS OF THE CLASSIC POWER BALLAD, A LOT OF BANDS ARE STARTING TO FALL BACK INTO THAT GENRE, IT'S REALLY ABOUT TIME, IT WAS GREAT MUSIC WHEN IT WAS OUT AND WILL BE EVEN BETTER WHEN IT'S FULLY BACK, AND SINCE I THINK OUR STYLE IS VERY SIMILIAR TO THE GOOD ROCK THAT WAS ON HIATUS, IT'S BEEN A BLESSING FOR US AND HAS GONE OVER VERY WELL WITH OUR CROWDS  
What sort of age group are you attracting with your music?
Erik: *LOL*, I THINK THAT'S SOMETHING ME AND THE GUYS ALWAYS LAUGH AT, WE MOSTLY HAVE 18-40, BUT WE HAVE HAD 75 YEAR OLD PEOPLE ASK FOR A COPY OF OUR SONGS, I MEAN NOTHING SURPRISES ME ANYMORE, I'M JUST GLAD WE CAN BE AVAILABLE TO SUCH A WIDE SPECTRUM OF AGES AND PEOPLE
If you got the chance to have a concert in Norway, what could we expect from Evolution Effect?
Erik: DELIVERY OF ONE KICK ASS ROCK SHOW.... NORWAY WOULD BE A FANTASTIC PLACE TO TRAVEL TOO, LET ALONE PLAY, WHAT YOU COULD EXPECT IS TWO AND A HALF HOURS OF SOLID ROCK, A GREAT TIME AS WELL ,WE LOVE TO HANG OUT WITH THE FANS AFTER SHOW, WE DON'T RUN AND HIDE ON A BUS
Any instruments you would love to learn how to use, that you don not?
Erik:  I GUESS IT WOULD BE DRUMS, I CAN PLAY A LITTLE NOW, BUT I'D LOVE TO BEAT OUT SOME STRESS ON THE SKINS....DID THAT SOUND WRONG? *LOL*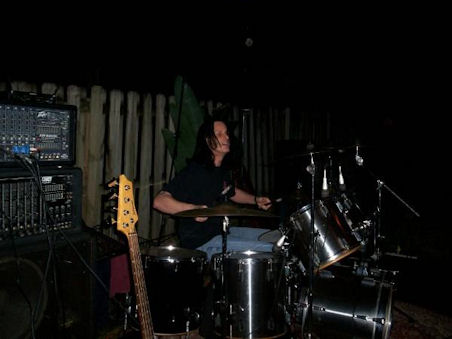 Is there a funny story you would share with us?
Erik: *LOL* , I'VE GOT A FEW BUT I THINK THE FUNNIEST IS VIC WAS IN HIS HOTEL ROOM BANGIN' AWAY WITH SOME HOT CHICK HE HAD MET, (THIS IS BEFORE HIS LOVE MARSHA SO DON'T KILL ME MARSHA), AND EVERYONE RAIDED THE ROOM, GRABBED THE MATTRESS AND THREW HIM AND THE CHICK ONTO THE POOL DECK ,BANGIN AND FREAKIN OUT INTO THE MIDDLE OF PEOPLE HANGIN OUTSIDE AT THE POOL,....I ALWAYS CRACK UP WHEN I THINK OF THAT, WE ARE JUST WAITING FOR OUR DRUMMER TO FALL ASLEEP ON OUR TOURS BUT HE STAYS UP TILL HE'S SURE WE ARE ALL PASSED OUT, *LOL* AND VIC, HE NOW SLEEPS UNDER THE HOTEL SINKS AND BUILDS A FORTRESS TO SLEEP SAFE
LAUGHING OUT LOUD!!!!! You are killing me Erik, Thank you for sharing that episode...
If you could turn back the time and choose a new date to start a band,  when would that be? And why this year/decade?
Erik: ACTUALLY, I WOULDN'T CHANGE A THING, I THINK THIS BAND STARTED AT THE RIGHT TIME AND PLACE AND I'M VERY COMFY IN THE WRITING AND PROGRESS WE HAVE MADE
What is the highlight of your careers as rock musicians?
Erik: TO BE HONEST, IT'S TIMES LIKE THESE WHEN WE GET INTERVIEWS FROM GREAT PEOPLE SUCH AS YOURSELF, AND JUST LAST WEEK I WAS DRIVING TO TACO BELL, AND SOME KIDS NEXT TO ME HAD ONE OF OUR SONGS CRANKIN' ON HIS CAR STEREO, THAT WAS PROBABLY MY BEST MOMENT
Anyone you would love to meet, that you have not met yet?
Erik: YNGWIE MALMSTEEN....HE LIVES NOT TO FAR FROM ME HERE IN FLORIDA. AND I'M HOPING ONE DAY TO MEET LITA FORD...SHES SO HOT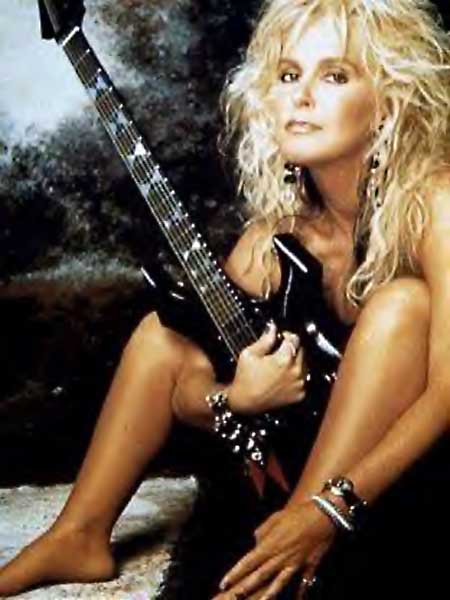 Lita Ford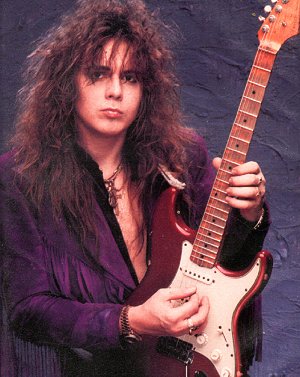 Yngwie Malmsteen
What is your opinion about www.blizzofrock.com ?
Erik: BLIZZ OF ROCK IS SOMETHING THERE SHOULD BE ALOT MORE OF, IT'S GIVING ARTISTS A CHANCE TO TELL ABOUT THE BANDS AND MUSIC THEY HAVE, I THINK ITS GREAT WHAT YOU DO OVE, AND YOU WILL ALWAYS BE A GREAT FRIEND OF EVOLUTION EFFECT. WE'D COME BACK ANYTIME YOU WANTED US....THANKS BROTHER
Thank you so much Erik and Evolution Effect for using time to answer these questions.
Blizz of rock wishes Evolution Effect all the best, take care Erik
Erik: ROCK ON !