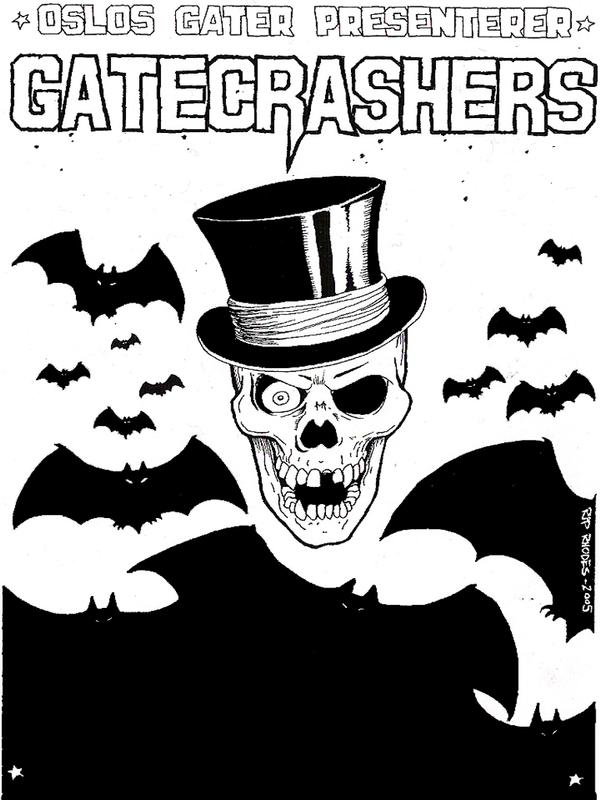 Interview with Eddie and Stony from GateCrashers by Ove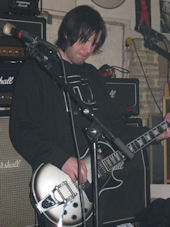 Eddie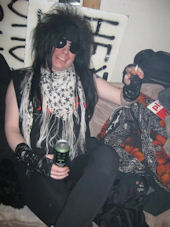 Stony
Hello Eddie and Stony,  thank you so much for giving Blizz Of Rock this interview
I'm really honored to talk to both of you. Eddie the guitar player and Stony the vocal singer in Norway's great rock band Gatecrashers.

Eddie and Stony:  Hi, Ove, Stony and Eddie's in the house! Honored to talk to you as well. A real Connoisseur of music is what you are!

Thank you. Tell me Stony when was the band Gatecrashers formed?  What is the story behind the name?
Stony: Gatecrashers was formed in 2001 by myself, I just wanted a band I would love to see. I found the name before I found the band. Inspired by a song from a Swedish band called "The Mobile Mob Freakshow".
You told me the first album is to be released this year, but Gatecrashers was formed in 2001. Why did it take so long time to create an album?
Stony: Due to Line-up problems, money problems, basically the worst and most common problem a band can face. It took eight years before the debut was released..
Eddie, does Gatecrashers have more material for another album in the "near" future?
Eddie: Yes, of course we do. We've already recorded one track for an upcoming compilation which will be released in May by legendary Norwegian label Hit Me! A couple of more tracks will be tested on the audience during the next few gigs.
Rumors has it 2001 was a fantastic year for Gatecrashers, could you tell me what happened?
Stony: The band played our first gig. Not much else happened that year, but 2002/3 was to be slightly better. The following year the problems started. Zcary and I stuck through all that shit and made the rocks roll even harder and faster than before.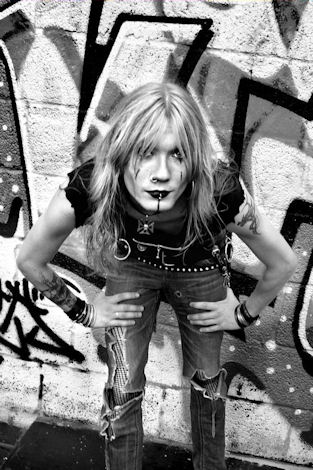 Zcary
There have been a lot of changes in the lineup. Would you say that it is hard to be a band member in Gatecrasher? *laughing*
Eddie: For some it obviously is. We might not be the easiest people to deal with. But our fascism comes from a deeply rooted love for rock n' roll, the truest form of art there is.
Backstreet Girls is for me Norway's best Rock 'N' Roll band. Do you feel that Gatecrashers have been kept in the dark?  Is it hard to be in a rock band in Oslo?
Stony: Not really, at least not by them. BSG are good friends of us, and they adore us just as much as we adore them. they are very supportive. But the business side of music in general in Norway wants to keep things very "safe", and they are scared of taking chances.
Eddie: It has to be nice and clean. That is not our vision of Rock 'n' roll.
"Bastard" Westad have played drums on "hey ho let's quo"(Backstreet girls track).  "Stony Crash" Have played for Trashcan Darlings. You feel their experience make this band better?
Eddie: Not for Stony, as he had a completely different role in Trashcan Darlings, than here, and he sings much better than he plays bass, that's for sure. Bent has in addition to playing with Backstreet Girls also roadied on and off for 10 years, so he will most deffently have picked up a lot from B.T. But we cannot underestimate the influence of any of those bands, and we're all great fans, and friends of both bands. R.I.Punk TD 1995-2008.
Does Gatecrasher have their own style?
Eddie: That's up to you to decide. But we don't see many bands doing what we do.
Where may we find the albums, where can we find the albums and buy the music of Gatecrashers?
Eddie: You will get it through the most common web-stores, like Itunes, Amazone, etc. The distribution deal for the physical product, has yet to be hammered out. But we are in negotiations with a couple now so nothing will be revealed at this moment. It will def. be available for everyone who wants it.
Who writes the songs/lyrics in the band?
Eddie: Stony of course writes most of the lyrics, I would say 95%. We all contribute on the music.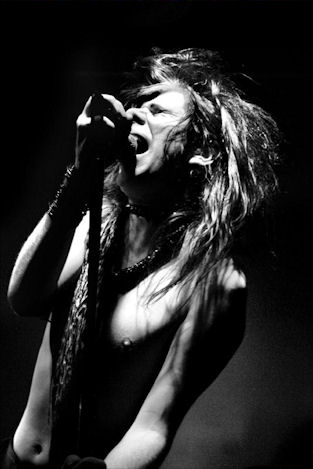 Stony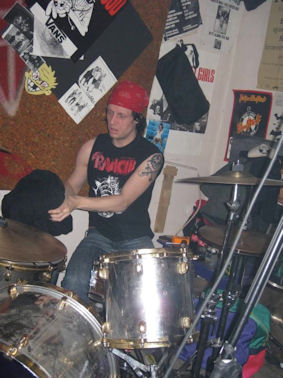 Bastard
Do you feel the band have grown since 2001?
Eddie: Of course! I guess you have grown as a human being as well. Everything else would have been real sad..
Stony: My hair is growing even faster than before! *laughing out loud*
What does MySpace mean to the band?
Eddie: It probably made you aware of us! Besides that,we have not made good advantage of it yet. Definitely room for improvement in this area…
Is Gatecrasher signed or unsigned? What deal are you looking for?
Eddie:  It will be released by ourselves on my new label, Gestapo Records. For distribution, see above..
Is it possible to see Gatecrashers live on tour?
Eddie: We will play as much as possible from now on. Starting at Felix Lillehammer with Ronny Pøbel the 23.5, Oslo Pønkråkk-festival 29.5, Flekkefjord 19.6, Alta 11.7. To name a few..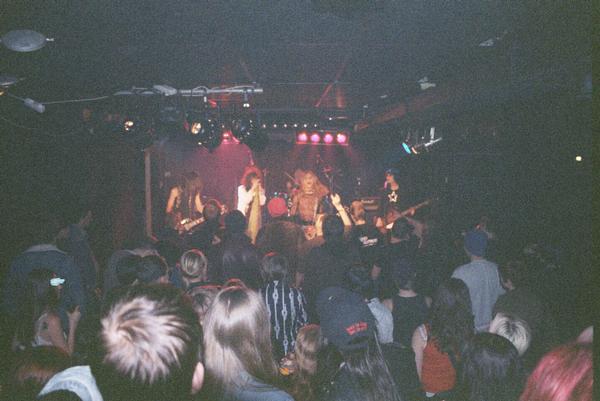 Any bands or artists you would love to have with you on your tour?
Eddie:It would be great to play with bands like BACKSTREET GIRLS, TURBONEGER, to name the top names in Norway, but we're very happy playing with the likes of Ronny Pøbel, Åsmunds, Stinky Fingers and Tommy Luger. Not to mention the great bands and friends we have played with, like TD, Hollywood Vampires, Hell Dørmer, Rampant Dogs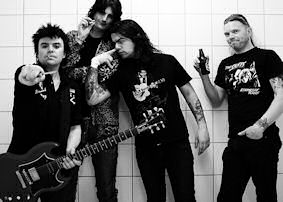 Backstreet Girls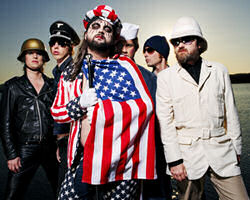 Turboneger
If there was one place in the wide world that you could play Eddie where would that be?
Eddie : CBGB 1977
Your last live performance was at John Dee, Oslo Norway. How did that come about?
Stony: It was originally meant to be a yearly event of norwegian glam-rock acts getting together for the sleaziest party you've seen. Then TD decided to call it quits, and there was some change of plans, so it turned in to the TD farewell gig instead. It still turned out to be the sleaziest party you've seen.. A nice way to honor one of the greatest bands ever.
I know more and more bands make themselves a music video. Will Gatecrasher do the same?
Eddie: Yeah we will make a video of the song Feather Boy A Go-Go. (Might be a sleazy affair..)
What sort of age group are you attracting with your music?
Eddie: Hard to say, but if your mama hates us, we must be doing something right.
Stony: And if she likes us, she must be good-lookin', hehe!
If you got the chance to have a concert in the US, what could they expect from Gatecrashers?
Eddie: How we would behave in the U.S is impossible to predict, it all depends on the setting of course, but we're all pro's in this band. We always give 110%, if it's 3 guys attending or 1500 playmates in the audience. It's all about the kicks, you know!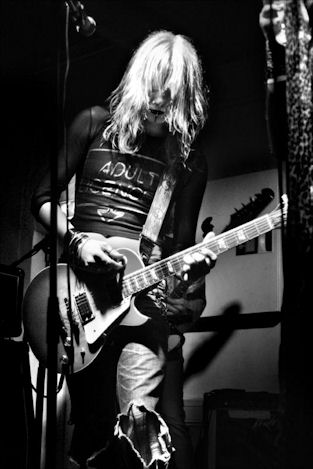 Zcary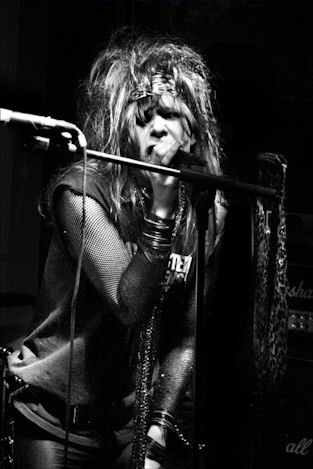 Stony
What can fans expect from Gatecrasher in the future?
Eddie: In the future, it will be more of the same, just better. We're all evolving as songwriters, and I'm really excited about the new stuff that's been brought to the table. From Stony I'm witnessing a slightly more punk-rock approach, Andy has come up with some swaggering stuff. My new stuff is probably a bit faster and harder, but still catchy. Zcary is always writing as well.. We'll just have to wait and see.
What's your opinion about the Rock 'n' roll coming back? (If it ever were gone)
Eddie: It never went away.
What is your favorite band Stony, if you could choose something from the 80's?
Stony: I noticed sometime during the 90's that it went undergrond for a couple of years, but it was around if you looked for it. Bands like Warrior Soul, D-Generation and Alleycat Scratch were the only kind of bands I played on my stereo at the time. But everything come in waves, and before we know it, it can sink underground again.
Is there a funny story you could share with us?
Stony: Lot's of funny stories, but I can mention a few. For example the time we went to Haugesund for a festival-gig, and ended up playin' for 1 person + Helldormer (They played the same night for us...). Or when we played at a porno-party in Oslo, and during the fourth song the fire-alarm went off. It was in mid-february, and naturally we had to abandon the building. All the men wore strings and leatherchapps, and all the girls were dressed as playboy-bunnies. Imagine the cold.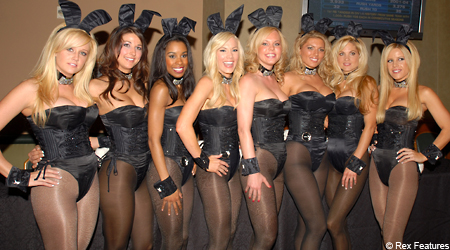 If you could turn back the time and choose a new date to start a band, when would that be? And why this year/decade?
Stony: I would go back to the year 1770, when men wore tights and make-up without anyone telling them it was just an image...
What is the highlight of your career as rock musician?
Stony and Eddie: All our live gigs and shows. To see how the fans react to our music that is always a highlight
Anyone you would love to meet, that you have not met yet?
Stony: I'd like to meet Nikki Sixx, Lita Ford and Denis Leary. And a junkie that stole a lot of my record-collection, to make a picasso of his face...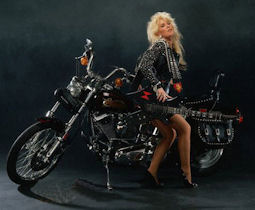 Lita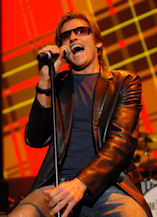 Denis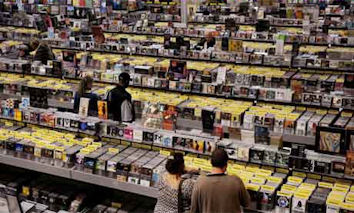 Collection
Eddie: I would love to meet Keith 1968, The Runaways 1976, and the junkie who stole Stony's record collection, so I could buy some great, cheap records..
What is your opinion about Blizz Of Rock? (www.blizzofrock.com)
Eddie: Blizz of Rock is among the few who promotes underground rock, and deserves as much credit as anyone because of that.
Anything else you'd like to tell the fans?
Stony: Rock 'till u drop, and never stop believin'. JOIN OUR SICK RELIGION!!!
Thank you so much Eddie and Stony from Gatecrashers for using time to answer these questions.
Eddie and Stony: Thanks for some good questions Ove, Cheers!
Blizz of rock wishes Gatecrashers all the best, take care Eddie