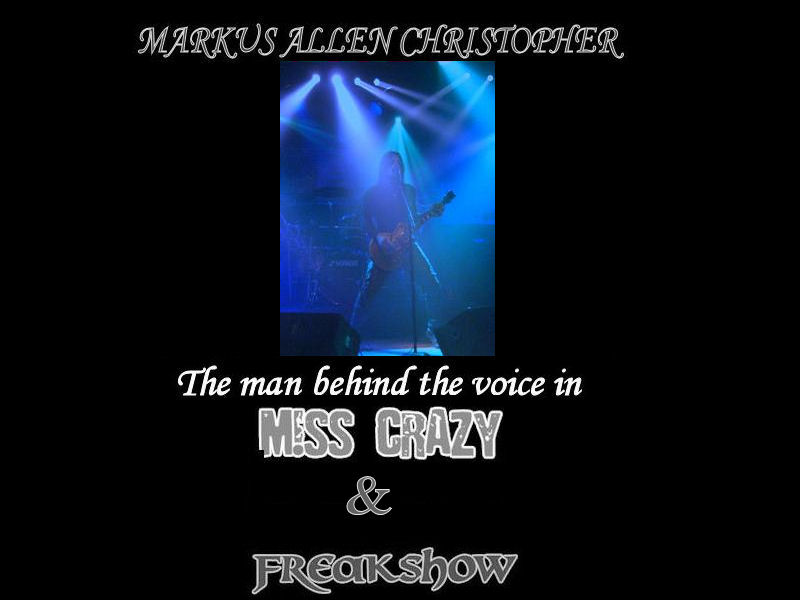 Interview with Markus Allen Christopher by Ove
Hello Markus! Thank you so much for taking time to give Blizz Of Rock this interview. It is really a honor to talk to the lead singer in M!SS CRAZY and Freakshow
MAC: Thanks man!
M!SS CRAZY released their debut album early in 2006 is this the first album you have created or been involved in?
MAC: Sorta. I did a few things. But that is the first anyone cared about really.
What is the story behind the names

&

?
MAC: M!SS CRAZY was something I used to call my sister. Freakshow was something Frankie Banali came up with.
Will we from the North ever have the chance to see the M!SS Crazy or Freakshow on tour in Europe?
MAC: Totally..one of them and maybe both will be there sometime. It depends on this recession. I love to tour! I am my best live!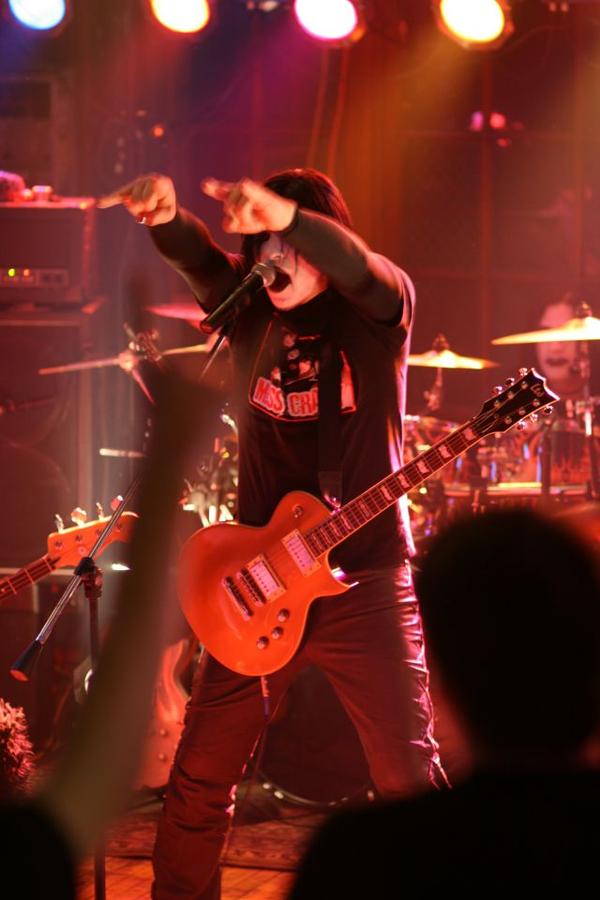 One of my favorite vocal singers is Tom Keifer. Your voice is incredible, Markus. And I'm not lying when I say your voice reminds me of his. What is your relationship with Cinderella?
MAC: Well Jeff Labar from Cinderella is in my band Freakshow. Tom really likes Freakshow and M!SS CRAZY. He is one of my many hero's growing up. He so rips!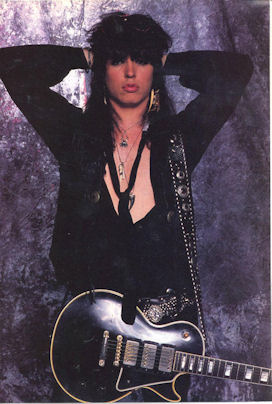 TOM KEIFER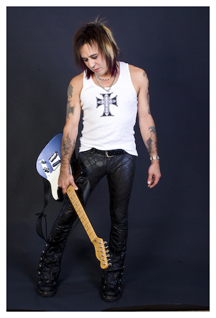 JEFF LABAR
Here is a tricky question for you, Markus. You created the band "M!zz Crazy"(Jordan, Lee and Bouche) and now you're in a band called "Freakshow"(LaBar, Franklin and Banali). How would you describe the "Road to the stars" ?
MAC: M!SS CRAZY has paved the way for me to be playing with the guys in Freakshow. I just love arena rock. I love what it is and what it stands for. I am rock! M!SS CRAZY is total rock for the fan!
Are you a restless man Markus? Or is it so that you always got another thing comin' ?
MAC: I'm pretty mellow. I need to be productive. I'm always thinking!
Songs like "No Compromise" and "Say you will" is what I call Rock 'N' Roll. Songs that I never stop loving'. Who write the lyrics and music?
MAC: I do. I just love rock man! Guitars, Bass, Drums! pounding! I love great rock songs! I love to write!
"Living without you" a song from the album M!ss Crazy II. You even made a music video to this song. How did that come about?
MAC: Just made a video for the first single. It was an ok video. Not the greatest. I hope Freakshow does one.
I would say that Markus is a "Wonder child". Who has been your biggest influence through all the years?
MAC: More like a Rocker Child. I love AC/DC and KISS, MOTLEY, QUIET RIOT, CINDERELLA, DEF LEPPARD, VAN HALEN, ZEPPELIN..Just to name a few.
If you could go back in time, bro, what year or decade would you go back to? And why?
MAC: The 80's..because I would help own it!! I am all about that music!
I guess I never would have heard of M!zz Crazy if there wasn't for Myspace. What have myspace done for Markus Christopher as a musician?
MAC: It is the reason we were so successful. Myspace is very important to PR your band these days. Thousands of people have our music and thousands have seen us live though out the United States! Great fans and friends I have made.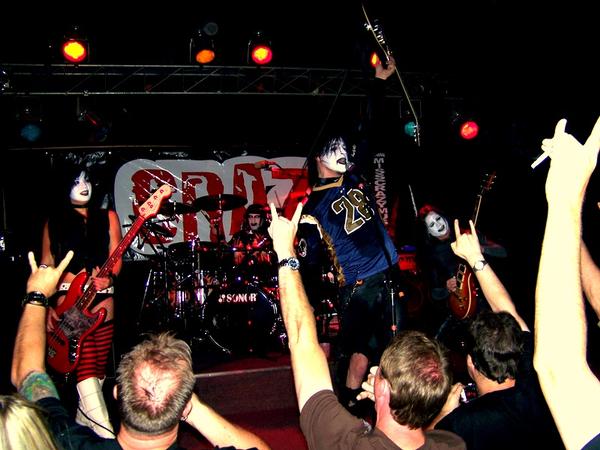 If you could choose a stage in the whole wide world, where would that be?
MAC: Cow Palace in San Francisco! Oricle Arena in Oakland! Madison Square Garden in New York! The Forum in Los Angeles!
Girls like lead singers. Vince Neil, Paul Stanley, Steven Tyler, Jon Bon Jovi, Bret Michaels, Jani Lane and so on. Would you say to be the lead singer is the most important place in a band?
MAC: Yes! Lol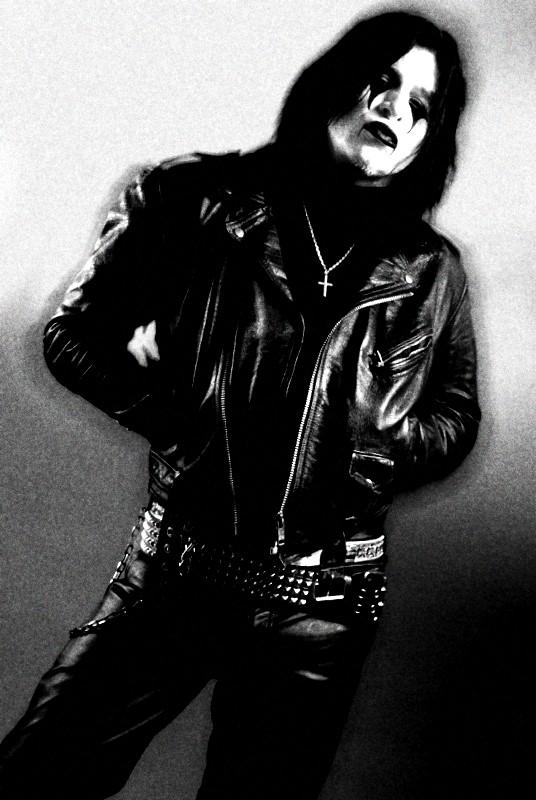 Where did Markus grow up?
MAC: B.C. Canada!
What is your music background?
MAC: MTV, Rock music, self taught.
If there was one person you could have by your side on stage, who would that be and why?
MAC: For one..I can't do it alone..I can't name just one! I do know I have some special people to play with live! When do. It's the best! To name them? Kim Racer, Jeff LaBar, Chris Jordan, Frankie Banali.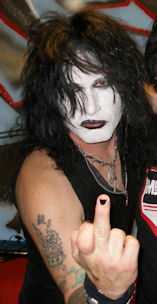 CHRIS JORDAN(M!ss Crazy,SLATE)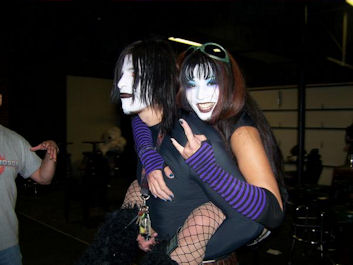 Kim and Markus
Any funny story you could share with the fans?
MAC: Yes. My life in general.
Do you know any Norwegian bands? Any favorite songs?
MAC: Umm not really. Turn me on to some!
What is your opinion of Blizz Of Rock?
MAC: Killer man!
I would like to thank you Markus, there was actually a time a few years back, when I thought the Rock was about to die. Then I came across M!SS CRAZY and I was thinking "a band from the 80's that I had not heard of?" And I bought the cd the day after….. So again Thank you Markus, and thank you so much for giving this interview. Would you like to say anything in conclusion?
MAC: Thanks for your interview and support! It is people like you that keep me wanting to play this music! I will continue to rock and give you bands like M!SS CRAZY and FREAKSHOW because that is what I do. Thanks again!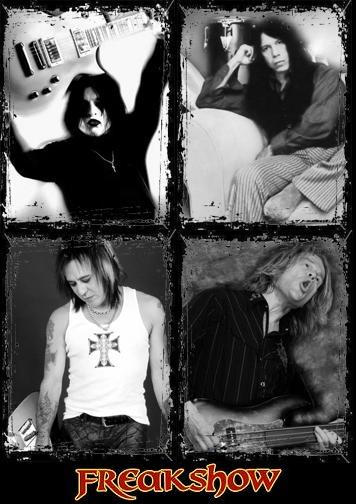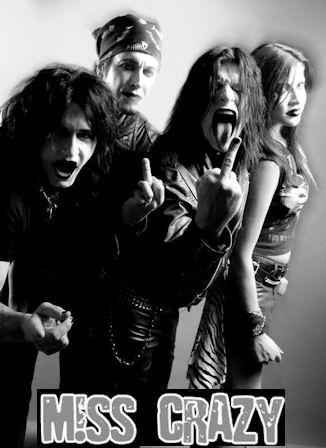 Blizz Of Rock wishes Markus Allen Christopher all the best. Good luck in whatever you do. Please drop by anytime, bro
MAC: You do the same brother! God Bless! Keep it Rock!!

Have you bought M!ss Crazy's albums? Please support the band! They deserve that right? Click the image to buy the cd's