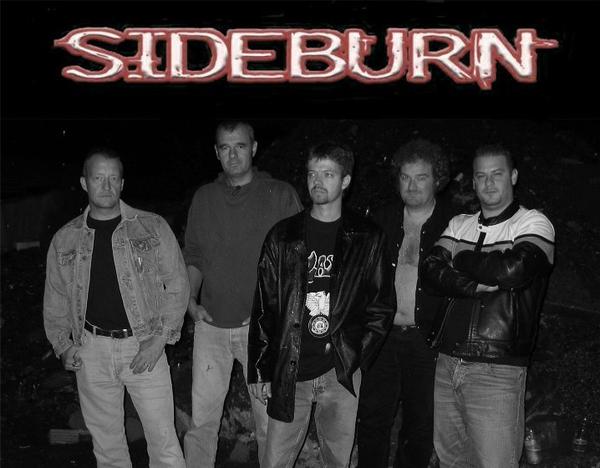 Sideburn
Band Members
Guitar: Fred Gudit/Boris Bass:Michel Demierre
Vocal:Roland Pierrehumbert Drums:Lionel Blanc
Interview with Lionel from Sideburn by Ove
Hello Lionel and thank you for taking time to answer these question

When was the band Sideburn formed?

The band had kind of 3 birth date:
-     in the late 80's when the band started under the name GeNOcide
-      when the band decided to change the name to Sideburn in 1996
-      And finally when Michel, David & myslef have joined the band in 1999

It's a very original name Sideburn, Who came up with this name, and why?

It's an idea that came up with Elvis Presley's sideburn in mind, that sounded cool. What can be more rock'n'roll than the King?

The first time I got in contact with you, you guys were friends right away. It is not
often people or bands are that friendly at first. This is something that I admire you for.
Now with internet we have been lucky to be contacted by people from all over the world
who, first of all, love music in general and then who are taking their time to
talk about us. As we are doing music with passion, I think that it's a minium
to be nice with people who are also passionate and who like what we are doing.

I have three albums of yours, and you know what? This is so totally rock n roll. And I
get a feeling that you guys get your influence from bands such as Ac/dc and
Rose Tattoo, is this correct?
Yeah, totally right, those 2 aussie's band are our 2 main influences from far, even
if it's not anymomre as obvious as on an album like « Sell your Soul » which has been composed & recorded clearly with AC/DC in mind.

How many albums have you guys now released? 
If we count the one under the name GeNOcide, wehave done 6 albums, 2 mini LP and one Best of (Archives).
Where may we find the albums, where could we buy your music?
We have all our albums (except GeNOcide : Roots in Rock & Showtime that are sold out) available from www.cdbaby.com  &  www.hangloose-records.com
They are also available from most major digital shops like Itunes,Napster, Amazon, Payplay. 

You've just released a new album called Cherry Red. I thought I had the best of Sideburn, but I was sooo wrong. This album is what we rockers call Rock 'n' Roll. And maybe the best part of the album is the tribute to Bon Scott. That really touches my heart, Lionel. What is happening to Sideburn? You're just getting better and better.
Thank you, I think that it took us years to understand this considered "so-simple" music.  We mix AC/DC's groove with the energy of Rose Tattoo to create our music, which is, if we go back to basic, punchy rock'n'roll with a slice of Blues .  Now, when we create, we don't think about it anymore... the compositions arrive naturally, so it might explain that result.

In a song called "Down and dirty" I hear the Harmonica, awesome. You've even got a ballad if I may call it that. I'm talking about "bring the hammer down"
For the harmonica, Roland plays it since a while and we think that it brings something to our music, especially live, so that is why we have one or 2 songs per album where he plays some.
That ballad is definitely not our favorite song, in fact we were not sure to use it, but at the end we thought that some girls (laugh) might like it.

Who is the "Brain" in the band?
There are no real brain in the band, it's a mix of individuality that have all their place. But as Fred & Roland have founded the band,  they have a little more weight when it's time to decide something musically. For example, the idea of the riffs comes from Boris, Fred & Roland and then we jam them to create the body of the song, then Roland can work on creating the vocal line and then the lyrics. For internet it's more Michel's business and I 'm doing more the interviews and all the promotion. Everybody's got a role in the band that most of the time the other one don't want to deal with, so that way it's fine.

I know Sideburn have been on tour and played many places. I saw an interview at that
TV Show MusicoMax. Sideburn really kick ass live! I hope you received a lot of feedback for this.
The stage is definitely where we feel the best, we do this to be able to play it live and to get the reaction from the audience. And as we do that with our heart most people like our performances.

When will we see Sideburn on tour?
We hope that we'll be able to play around Switzerland in 2009, in France & Germany, but I'm not sure that we will come to your region, except if we are "invited" by a Festival .....

Any bands or atists you would love to have with you on your tour?
We have been pretty lucky to play with most of our idols (Kiss, Motorhead, Rose Tattoo,
Def Leppard, Dio, Ted Nugent, Thin Lizzy, Y&T, etc….), but it's clear that we would love to to play with AC/DC like everybody that is playing this kind of music.

If there was one place in the wide world that you could play, where would that be?
Good question, but we would certainly love to play one of those happening festivals like Graspop, Sweden Rock or Bang your Head.

If I say that Sideburn is of the reasons that Rock 'n' roll never dies, what is your opinion of that? I was afraid that Rock 'n' roll was about to die.
That band has never been in the trend, we just keep playing what we like, so if it's now it's hip to play rock'n'roll, we can say that it's the first time in 20 years that the band is in the vibe. Our music is a made of basic groove, catchy guitar riffs and a good chorus…. And people can tap their feet. Most people like simple things, so it's quite logic that people are coming back to this simple music (even if it's not as simple as it seems).

What sort of age group are you attracting with your music?
We are lucky that finally, hard rock is becoming again popular with the return of AC/DC, the raise of the young band Airbourne and we can see that not only people of our age (35-45 years old) are coming to our show but teenagers are coming to basic Rock. In fact I think that they listen to the type of music that their parents were listening in the 70's and 80's.

One of my favorites is "Sign in the south" please tell me the story of the song.
It's a song about a movie  called « Crossroad », it's the story of a young guitar player who sign a pact with devil, it has been composed by Monbaron, Fred and has been produced by Juerg Naegeli our producer for about 4 albums. He was the Krokus bass player till the album Metal Rendez-vous. 

If you got the chance to have a concert in Norway, what could we expect from Sideburn?
We would certainly play a lot of songs of our new album. On our release party we have played 8 songs of « Cherry Red » and we have not removen one off the setlist yet, so that means that the audience like them and that we like to play them.  A good song is normally good to be played live.

You've all been doing this a long time, what has been the highlight of your careers as rock musicians? 
I know that for Roland, it was to have a chance to meet Angry Anderson when we have opened for them in 2005. But Kiss was definitely something awesome. For me the gigs with Dio & Def Leppard, as well as the long discussion with Dave Meniketti of Y&T this year, were my personal highlights.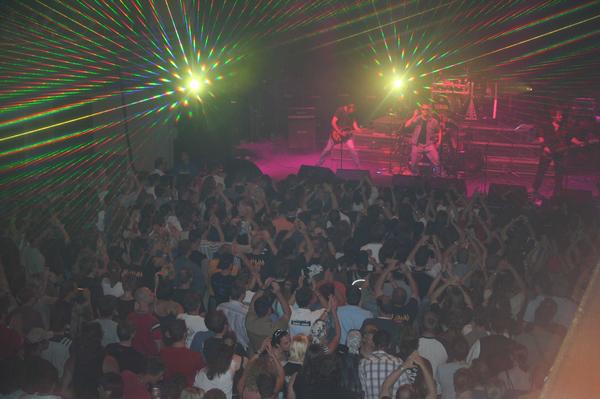 Anyone you would love to meet, that you haven't met yet?
As a big fan of Saxon, I would love to meet Biff, AC/DC and also Alex Van Halen, he is a so brilliant drummer, even if his influence cannot be heard on my playing J 

Where do you go pretty much every time you get online?
I go on our myspace page to check if there is anything new, listen to music atwww.stickmanradio.com a web radio where you can interact and decide which song you'd like to hear. Great concept. Also I've just discovered a site called http://www.rocktelevision.com/.
Bunch of Rock video clip there.  And finally youtube to find some rare music videos.

What's your opinion about Blizz Of Rock?
It's a great site done by a passionate person, which will stay good and interesting, as long as you'll keep the flame. I think that it's the same for us, as long as we'll like we like what we are doing, our music should stay decent !

Thank you Lionel and Sideburn for using time to answer these questions.
Blizz Of Rock wishes Sideburn all the best, take care Lionel