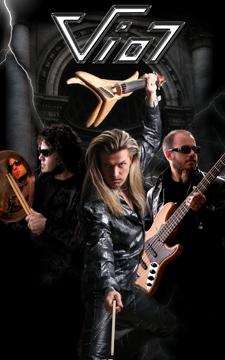 Vio7
Interview with Arman from Vio7 by Ove

Hello Armand, thank you so much for giving Blizz Of Rock this interview

OOOOH, IT'S MY PLEASURE, THANK YOU, OVE AND BLIZZ OF ROCK FOR GIVING ME AND VIO7 THIS OPPORTUNITY
First of all Armand, I'm honored to talk to the great violin player behind the great rock band Vio7.
When was the band Vio 7 formed? And why this name? What is the story behind the name?
AFTER ABOUT 9 YEARS OF DESIGN, DRAWINGS, PHYSICS, ELECTRONICS - ALL KINDS OF EXPERIMENTATION, A NEW PROTOTYPE VIOLIN EMERGED. IT HAD 7 STRINGS AND IT WAS A VIOLIN, EVEN THOUGH IT DIDN'T LOOK LIKE ONE ... SO, A FEW YEARS BACK I NEEDED TO PUT TOGETHER A KILLER SET OF MUSICIANS TO SHOW OFF WHAT THIS CRAZY INSTRUMENT IS CAPABLE OF TO THE AUDIENCES WORLDWIDE. THEREFORE THE NAME - VIO, BECAUSE OF THE VIOLIN AND '7' - ALL KINDS OF MEANINGS ON THIS NUMBER ITSELF HAVE BEEN SEEN IN THE HISTORY, BUT IN OUR CASE - IT STANDS FOR 7 STRINGS. WE TEND TO KEEP THE VIOLIN AS THE 'DIVA' - THE CENTERPIECE OF THE GROUP. SIMPLE AS THAT, BUT OPEN FOR ANYONE TO FURTHER INTERPRET WHAT THE NUMBER 7 'COULD' MEAN.

How many albums have Vio 7 released?
THIS IS THE VERY BEGINNING OF THE ERA FOR SOMETHING THAT HAS NOT BEEN THERE BEFORE. WE HAVE CURRENTLY PUT TOGETHER A FULL BLOWN 2 HOUR SET FOR LIVE PERFORMANCES AND RECORDED THE FIRST RECORD. THERE ARE ALWAYS FRESH NEW IDEAS THAT GET ADDED TO THE LIVE PROGRAM THAT WILL EVENTUALLY BE PART OF THE NEXT RECORDING.

What can you tell me about the album The 7th string?
AGAIN - ALL ABOUT THE 7, IT WAS ORIGINALLY THE RECORD THAT WAS MEANT AS A COLLECTORS ITEM. HARD COPY ONLY FEATURES... YOU GUESSED IT - 7 TRACKS. (iTUNES AND WWW. AMAZON. COM DOWNLOADABLE VERSIONS CONTAIN 10 TRACKS). THE IDEA BEHIND THE WHOLE CONCEPT IS THIS: A VIOLIN CAN ROCK AND IT CAN ROCK HARD. OUR FANS DECLARED THIS TO BE A HEAVY METAL RECORDING. I DON'T KNOW - IS IT? FOR ME PERSONALLY THIS IS JUST A MUSIC THAT I LOVE - LOUD AMPS, HEAVY LOADS OF GUITAR EFFECTS, LEADS, POWERCHORDS, AND HERE'S THE KICKER... no guitars anywhere. YEAH, EVERYTHING THAT TELLS YOU ROCK GUITAR IS ACTUALLY DONE WITH A VIOLIN BOW. IT IS A MINDBLOWER WHEN PEOPLE IN THE AUDIENCE REALIZE THAT THERE ARE NO GUITARISTS PART OF THE BAND. JUST DRUMS, BASS AND VIOLIN AND EVEN ALL THE DOUBLE LEADS ARE TRIGGERED AND PERFORMED LIVE, EXACTLY AS IT IS IN THE RECORDING - NO PRERECORDED ANYTHING! WE'RE A LIVE BAND

Where may we find the albums, where could we buy the music from Vio 7?
CURRENTLY ONLY ON iTUNES AND WWW. AMAZOM. COM

I have listen to a lot of your songs, and you have really amazed me with the electric violin playing. How did you get the idea to use this kind of instrument?
SOUND-WISE MY FAVORITE INSTRUMENT IN THE WHOLE WIDE WORLD HAS ALWAYS BEEN A ROCK GUITAR. THE PROBLEM WAS, I HAD BEEN BROUGHT UP AS A CLASSICAL VIOLINIST AND SINCE AN EARLY AGE PUSHED TO DEVELOP A TECHNIQUE ON THE VIOLIN. AT A POINT WHERE I DISCOVERED ELECTRIC GUITAR, I, JUST LIKE MANY OTHER KIDS, WANTED TO QUIT PLAYING VIOLIN, TO SWITCH OVER TO GUITAR - BUT ... INSTEAD OF BEING ANOTHER ONE OF THE 100000000000 GUITAR-PLAYERS, I REALIZED THAT I COULD GO MY OWN 'ELABORATE' WAY AND FIGURE OUT HOW TO MAKE ELECTRIC VIOLIN INTO AN INSTRUMENT THAT CAN HANDLE MY BELOVED HARD'N HEAVY SOUNDS... AND not PLAY THE GUITAR AT ALL!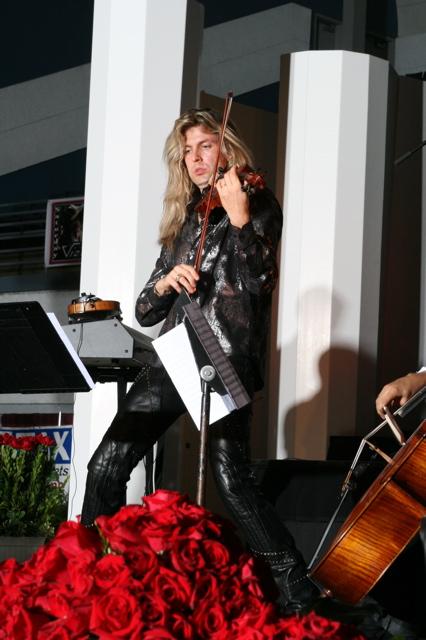 Are you Armand fond of Norwegian folk music?
I GREW UP HEARING A LOT OF LATVIAN FOLK MUSIC. IN SOME WAY IT IS NOT THAT MUCH DIFFERENT FROM NORWEGIAN ROOTS. I ALWAYS ENJOY HEARING MUSIC FROM DIFFERENT CULTURES, BECAUSE THAT IS SOMETHING THAT HAS NOT ONLY ESTABLISHED, BUT ALSO SURVIVED FOR MANY CENTURIES. THERE MUST BE SOMETHING IN THAT MUSIC FOR IT TO SURVIVE BEING TAUGHT FROM GENERATION TO GENERATION. AT SOME POINT WE REALIZE THAT MOST OF THE MUSICIANS WHERE SELF TAUGHT AND DIDN'T HAVE THE LUXURY OF WRITING DOWN OR RECORDING THE MUSIC FOR OTHERS TO HEAR. IS THAT SOMETHING THAT YOU'D FIND IN MY CD COLLECTION? NOT REALLY, JUST LIKE I DON'T HAVE ANY LATVIAN FOLK RECORDINGS AND - I AM 100% LATVIAN. THIS IS THE MUSIC THAT YOU HAVE TO HEAR FROM THE ACTUAL MUSICIANS PLAYING LIVE IN THE ENVIRONMENT WHERE IT HAD ORIGINATED - IT IS AN AWESOME EXPERIENCE! IT MAKES YOU GROW AS A MUSICIAN NO MATTER IF YOU ARE INTO THINGS LIKE - LUMSK, DIMMU BORGIR, A-HA OR EDVARD GRIEG FOR THAT MATTER. THERE ARE THINGS I LIKE ABOUT ALL OF THE ABOVE MENTIONED AND I DO HAVE FRIENDS THAT PLAY IN BOTH Bergen Philharmonic Orchestra AS WELL AS Oslo Philharmonic Orchestras. INSPIRATION SOMETIMES COMES FROM THE MOST UNLIKELY SOURCES. BUT SPEAKING OF FOLK MUSIC, WE DO HAVE A VERSION OF A NEARLY 2000 YEAR OLD LATVIAN FOLK SONG IN OUR REPERTOIRE, ONLY IN A MODERN 2009 ARRANGEMENT, CALLED "LOVE FOREVER".

I know Armand that you play other instruments as well.
I AM PROFICIENT KEYBOARD/PIANO PLAYER AND IF NEEDED CAN RECORD MY OWN BASS PARTS. I'D RATHER LEAVE IT TO MY GUYS WHO DO IT SO MUCH BETTER, BUT IT IS A GREAT WAY TO CREATE DEMOS FOR REHEARSALS. I USED TO WRITE AND RECORD MY OWN GUITAR PARTS TOO, BUT SINCE THE VIOLIN HAS BEEN DEVELOPED, I HAVE NOT TOUCHED THE GUITAR. I CAN DO SO MUCH MORE ON THE VIOLIN, IT IS A GREAT CHALLENGE AND WAY MORE FUN TO PUSH ME IN THE DIRECTION WHERE NO ONE HAS GONE BEFORE. NO MATTER WHAT I DO, BE IT COMPOSING OR ORCHESTRA CONDUCTING, IT ALL STARTS AND ENDS WITH BEING ABLE TO SIT DOWN AND PREPARE THE NECESSARY REHEARSAL MATERIAL ON A PIANO. YOU HAVE 88 KEYS AVAILABLE AND THAT IS A TOTAL FREEDOM! I HIGHLY RECOMMEND FOR ANY MUSICIAN WHO DOES NOT HAVE THESE SKILLS YET, TO LOOK INTO SOME SORT OF KEYBOARD INSTRUMENT PROFICIENCY. I KNOW EVEN JOE SATRIANI WRITES SOME OF HIS TUNES ON PIANO, LOTS OF GREATS FROM POP TO METAL DO IT. FOR VIO 7 TRACKS I TRY OUT ALL THE HARMONIES AND MODULATIONS FIRST ON THE BLACK AND WHITE IVORIES.

But you have won a lot of awards for the Violin playing. Please share your thoughts of this.
IT WAS AN INTERESTING TIME IN MY LIFE AND IT TAUGHT ME A LOT ABOUT DISCIPLINE AND NECESSARY REQUIREMENTS FOR PREPARING A HIGHLY TECHNICAL PROGRAM AND BEING ABLE TO DELIVER IT TO THE AUDIENCE. THERE ARE ALL KINDS OF TRICKS THAT COME WITH TAKING PART IN COMPETITIONS: EVERYTHING FROM PROPER STUDY TECHNIQUES TO EVEN A DIET THE DAY OF THE PARTICULAR EVENT. ALL THAT BECOMES VERY HANDY WHEN TOURING AND PLAYING LIVE.

You have played with Richard Marx and even the great tenor Pavarotti, just to mention a few great musicians, what have this done to Armand as a person?
IN A RECENT INTERVIEW I WAS ASKED BY A JOURNALIST ABOUT SOMETHING ALONG THE LINES OF "YOU HAVE PLAYED WITH EVERYBODY FROM PAVAROTTI TO ROB ROCK". I STARTED TO THINK ABOUT IT AFTERWORDS - YEAH, THAT IS TRUE. IT IS WEIRD HOW DIFFERENT THESE DISCIPLINES ARE. JUST A A FUN OBSERVATION: RICHARD MARX & N'SYNC AT THE TIME WHEN THEY WERE THE BIGGEST BAND IN THE WORLD, BROUGHT TOGETHER LEGIONS OF YOUNG GIRLS SCREAMING IN HIGH-PITCHED VOICES. IMAGINE ABOUT 10 THOUSAND OF THEM YELLING FROM THE TOP OF THEIR LUNGS. IT CAN BE A QUITE AN LIFE-ALTERING EXPERIENCE! JUST AS CRAZY AS THE OPPOSITE END OF THE SPECTRUM - LUCIANO PAVOROTTTI: AN ARENA FILLED WITH QUITE WELL TO DO PEOPLE AGES 60 AND ABOVE, WHO WOULD BE STANDING ON THIR SEATS(!) DRIPPING IN GOLD AND DIAMONDS AND ... STILL OVER-SCREAMING THE ARENA PA... AND THEN ROB ROCK BAND CONCERTS WITH THE AUDIENCE OF METALHEADS, MOSTLY DRESSED IN DARK CLOTHES. AS A PERSON YOU LEARN HOW TO RELATE TO DIFFERENT KIND OF MUSIC, AUDIENCES AND PEOPLE. PICTURE THIS: ONE DAY AS I WAS BLASTING THE LATEST WHITESNAKE ALBUM AT AN EAR-BLEEDING VOLUME, MY PHONE BUZZED. I ANSWERED IT AND THERE WAS A JOURNALIST ASKING ME ALL KINDS OF QUESTIONS ABOUT THE UPCOMING ST.MARTIN-IN-THE-FIELDS-CHAMBER-ORCHESTRA-CONCERT HERE LOCALLY. INTERESTING SITUATIONS LIKE THIS OCCUR ALL THE TIME, BECAUSE I STILL PLAY CLASSICAL AND EVEN JAZZ FROM TIME TO TIME. THE BOTTOM LINE IS, NO MATTER WHAT STYLE, AS LONG AS IT IS GOOD QUALITY WRITING AND PERFORMING, OF COURSE, IT CAN TOUCH AND MOVE PEOPLE'S SOULS AND MUSICIANS HAVE THIS PHENOMENAL POWER OF BEING AN INFLUENCE IN SOMEONE'S LIFE. ONE CAN ONLY HOPE THAT THIS POWER BE USED TO CREATE SOMETHING GOOD, INSTEAD OF THE OPPOSITE.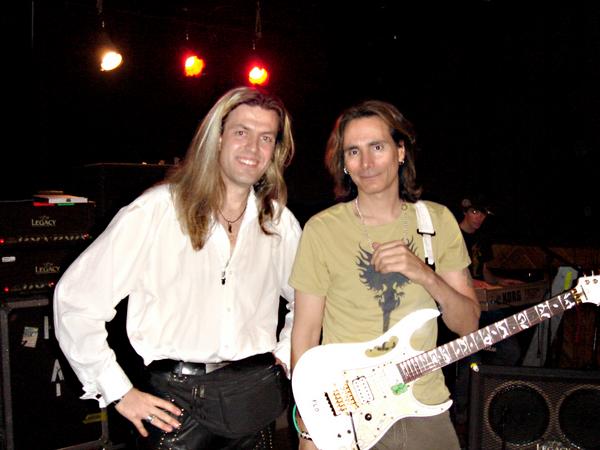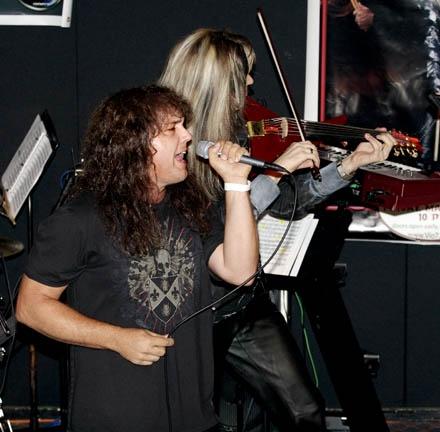 Vio 7 is not only electric violin, you even got Scott on bass, Billy on drums and Jason who plays piano, guitar and a lot of other instruments as well. Tell me about these guys. Where did you meet?
FIRST OF ALL JASON DOES NOT PLAY GUITAR 'IN' VIO7, SO TO SAY. AGAIN IT IS ALL VIOLIN AND NOTHING BUT THE VIOLIN. WE HAVE DONE A FEW HIGH - END - JAZZ GIGS WHERE JASON, A BERKLEE GRADUATE ON UPRIGHT BASS, ALSO A FANTASTIC JAZZ PIANIST WOULD PLAY DUETS WITH ME. WE HAVE AN INTERESTING CONCEPT. IT IS ONLY IN THE JAZZ SETTINGS THOUGH - 2 PEOPLE PLAY 5 INSTRUMENTS. WE PUT TWO PIANOS BACK TO BACK AND ACCOMPANY EACH OTHER AND THEN, HE'D THROW IN A GUITAR OR BASS SOLO AND I WOULD DO THAT SAME THING ON THE VIOLIN FROM TIME TO TIME.
WITH VIO7 MATERIAL JASON ONLY IS "ALLOWED" TO BE THE KEYBOARD PLAYER, JUST ADDING A FEW TOUCHES HERE AND THERE. VIO7 IS PRETTY MUCH A RAW POWER TRIO: VIOLIN, BASS AND DRUMS
WE MET WHILE PREPARING A CONCERT THAT STARTED WITH MY STRING QUARTET PLAYING AMPLIFIED HANDEL AND VIVALDI, THEN THERE WAS A JAZZ SET THAT EVEN INCLUDED FAMOUS PERCUSSIONIST FRIENDS OF OURS DANNY & BETH GOTTLIEB. I WANTED TO DO A FEW AMBIGUOUS THINGS LIKE LED ZEPPELIN MEDLEY (FEATURES MY STRING QUARTET, BASS AND DRUMS. THAT IS THE VIDEO THAT IS FLOATING AROUND THE WORLD ON INTERNET - AND IT IS OUR OWN ARRANGEMENT). THEN A FEW THINGS LIKE OZZY'S CRAZY TRAIN AND ROCK YOU LIKE A HURRICANE BY SCORPIONS WHERE AGAIN - NO GUITAR ARE USED, INSTEAD ALL THE GUITAR PARTS ARE PLAYED ON 7-STRINGS VIOLIN, WITH DISTORTION PEDALS, OF COURSE. THE EVENING HAD TO BE CONCLUDED BY AN ORIGINAL VIO7 'ROCK/METAL' SET. BILLY AND SCOTT ARE MUSICIANS WHO CAN EASILY HANDLE ALL THESE DIFFERENT STYLES, SO THAT IS HOW WE STARTED TO WORK TOGETHER. BUT THERE HAVE ALWAYS BEEN ALL KINDS OF MUSICIANS AND FRIENDS PARTICIPATING IN OUR CONCERTS. I'M ALWAYS OPEN TO EXPLORE NEW AVENUES AND WORK WITH OTHER PEOPLE AS WELL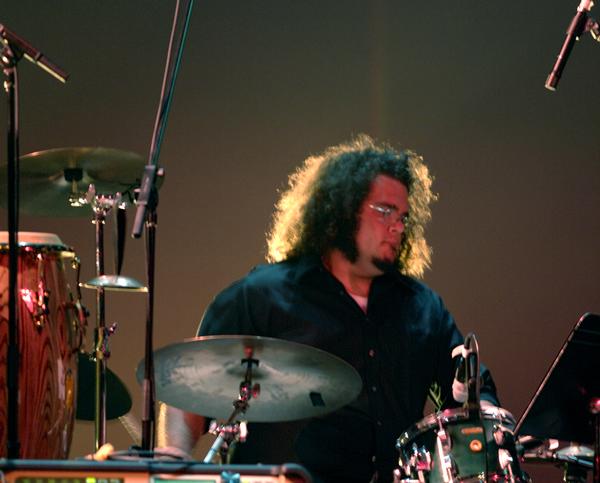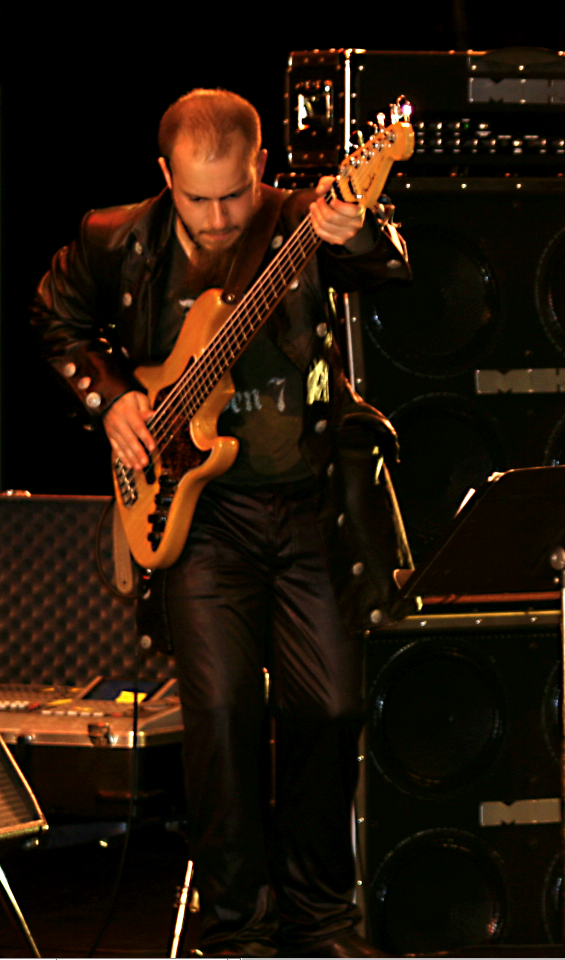 Is it possible to see Vio 7 live on tour?
WE DID LITTLE BIT OF TOURING ALREADY WITH ROB ROCK BAND FROM SWEDEN. AND WE'LL DEFINITELY HAVE TO DO MORE, BECAUSE THE REACTION FROM THE PEOPLE THAT COME TO THE CONCERTS IS QUITE OVERWHELMINGLY POSITIVE.

Any bands or artists you would love to have with you on your tour?
SOMETHING ALONG THE LINES OF THE ROB ROCK GUYS WAS JUST FANTASTIC (you might know them as CJ Grimmark, Andreas Passmark of NARNIA and the fantastic lead guitarist Peter Hallgren, all from Sweden). WHAT I MEAN IS - I'VE BEEN TOURING AS A CLASSICAL PLAYER AND MEMBER OF ALL KINDS OF GROUPS SINCE THE AGE OF 12 AND THERE IS ALWAYS THE 'BIG STAR' SYNDROME OUT THERE. BUT WITH THESE GUYS, DESPITE OF THEIR CD-QUALITY HIGH END PERFORMANCES EVERY NIGHT, I JUST FELT LIKE AMONGST BEST OF FRIENDS THAT I'VE KNOWN FOREVER, EVEN THOUGH WE HAD JUST MET A FEW DAYS EARLIER FOR THE FIRST TIME. I LIKE THOSE KIND OF METAL-HEADS. I ENJOYED THE TIME WE SPEND TOGETHER A LOT.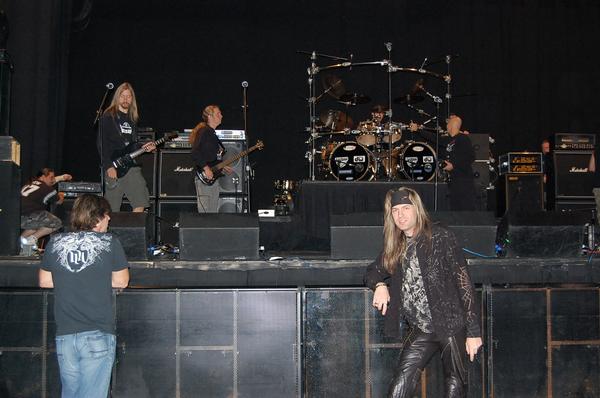 If there was one place in the world wide that you could play Armand, where would that be?
I CAN ONLY SPEAK FROM EXPERIENCE, I LOVED TOURING FINLAND YEARS AGO, HAVE VERY GOOD MEMORIES. I'D LOVE TO GO BACK, BUT TO BE QUITE HONEST, IT IS NOT ABOUT THE PLACE, IT IS ABOUT THE PEOPLE. AND WE SEEM TO BE GETTING RADIO-AIR PLAY WORLDWIDE AT THE MOMENT, SO - COULD I SAY, THE BIGGEST CROWD WINS? ;) JUST KIDDING! I WOULD LOVE TO PLAY IN JAPAN AND AUSTRALIA ONE DAY. I'VE NEVER BEEN THERE YET, BUT WE DO HAVE QUITE A BIT OF FANS THERE.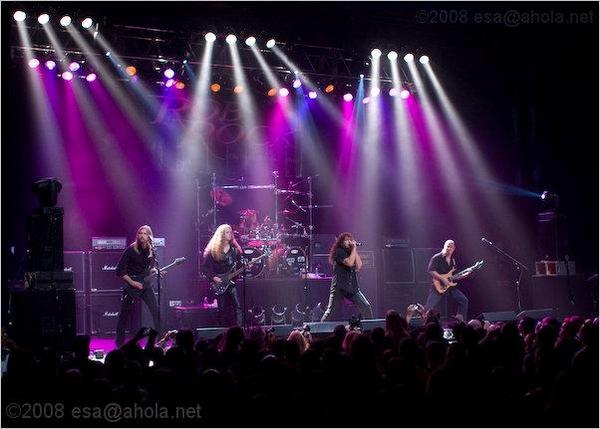 What's your opinion about the Rock 'n' roll coming back? (If it ever were gone)
OH, FOR ME PERSONALLY IT IS VERY MOTIVATING. I REMEMBER BEING PRETTY DISAPPOINTED WATCHING EVERYTHING FALL APP ART. AND THAT HAPPENED BEFORE I HAD DONE ANYTHING IN MY BELOVED GENRE OF MUSIC. I LOVE SEEING IT COME BACK STRONGER AND BETTER THEN BEFORE, LEARNING FROM THE MISTAKES THAT WERE DONE BEFORE. AFTER ALL HISTORY TENDS TO REPEAT ITSELF, UNLESS WE LEARN FROM IT AND MAKE THE ACCORDING FUTURE DECISIONS FOR BETTER.

What sort of age group are you attracting with your music?
HARD TO SAY, BECAUSE THAT CONCERT THAT I MENTIONED EARLIER WAS QUITE AN EYE-OPENER. WE HAD 3 GENERATIONS OF PEOPLE THERE. I SAW FAMILIES WITH KIDS AND GRANDPARENTS AND THEY ALL HAD SOMETHING THAT THEY LIKED IN THAT PERFORMANCE. THE OLDER FOLKS ENJOYED MORE OF THE CLASSICAL AND JAZZ SIDE OF THINGS, WHILE 40-60 YEAR OLDS DUG ALL THE CLASSIC ROCK STUFF AND KIDS COULD HAVE MOSHED WITH THE METAL SOUNDS IF THEY WANTED TO. BUT VIOLIN IS AN INTERESTING PHENOMENA - IT RELATES TO ALL GENERATIONS, AND FOR SOME REASON GETS MORE SUPPORT FROM THE SAME OLDER PEOPLE THAT WOULD DISMISS THE IDEA OF ELECTRIC GUITAR... STRANGE, ISN'T IT? SINCE MOST OF THE MUSIC IS INSTRUMENTAL WITHOUT ANY CONTROVERSIAL LYRICS, ALL YOUNG TEENS ARE HAPPY BECAUSE THEIR PARENTS DON'T OBJECT FOR THEM TO ATTEND OUR ROCK GIGS. AND WE SEEM TO DO QUITE WELL AS OPENERS FOR FAMOUS ROCKERS THAT FEATURE A SINGER. NO COMPETITION WITH THE FOLLOWING ACT, BUT IT IS STILL HEAVY, TECHNICAL AND THIS CRAZY VIOLIN ATTRACTS A LOT OF ATTENTION!

If you got the chance to have a concert in Norway, what could we expect from Vio 7?
I AM SURE THE TIME IS COMING WHEN YOU'LL SEE US PLAYING IN NORWAY. IT HAS TO BE A SERIES OF CONCERTS, AS THEY HAVE ALWAYS BEEN: HEAVY ROCK THAT INVOLVES A FEW THINGS THAT YOU HAVE NEVER SEEN BEFORE. FOR INSTANCE, HOW MANY METAL VIOLIN CONCERTS HAVE YOU ATTENDED SO FAR? ;) MANY THINGS THAT ANY METAL AND ROCK FAN LOVES: HIGH ENERGY MUSIC, QUITE VIRTUOSO, PLENTY LOUD AND ... LOTS OF FUN. WOULD THAT DO IT? ;)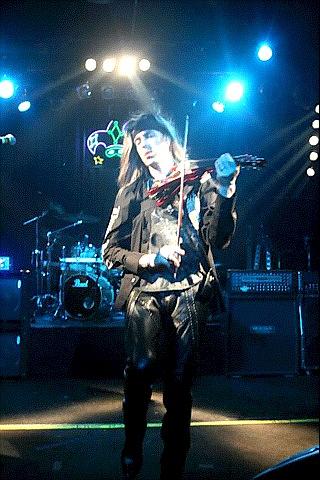 Is there a instrument that you would love to learn how to play, that you don't?
I THINK THAT I'VE ONLY STARTED TO DIG INTO THIS WHOLE ELECTRIC ROCK VIOLIN PALETTE OF SOUNDS. THIS ALONE WILL PROBABLY BE A LONG WAY TO GO. IT IS QUITE INTERESTING TO SEE MY PLAYING AND TECHNIQUE CHANGING, AS I DISCOVER NEW APPLICATIONS OF PLAYING SOMETHING, NEW SOUNDS, NEW GEAR - I JUST WANNA TAKE THIS INSTRUMENT EVEN FURTHER TO THE 'NO-MANS-LAND' WHERE NO VIOLIN PLAYER HAS EVER BEEN BEFORE. AND THAT ALONE QUALIFIES AS A 'NEW INSTRUMENT' IN ITSELF. I DO HAVE A TOP OF A LINE PEARL DRUM-SET SITTING IN MY STUDIO. I SHOULD LEARN A FEW THINGS ON IT TO CREATE DEMOS FOR THE BAND WITH ACTUAL MIKED DRUMS MYSELF. KINDA LIKE YNGWIE. I WAS SURPRISED HOW GOOD OF A DRUMMER HE IS, I'VE SEEN IT WITH MY OWN EYES

Is there a funny story you could share with us?
OH, MANY, BUT HOW ABOUT THIS RECENT ONE. I WAS PLAYING AS A SOLOIST WITH A SYMPHONY ORCHESTRA. AT THE END OF THE PERFORMANCE AS I BOWED DOWN, I FROZE OUT OF EMBARRASSMENT: I SAW ON THE FLOOR WHITE PAIR OF SOCKS IN THE MIDDLE OF THE BLACK STAGE FILLED WITH ALL THE MUSICIANS IN TUXEDOS. A MILLION THOUGHTS STARTED TO RACE THROUGH MY MIND ABOUT HOW I MUST'VE STUFFED THOSE STUPID SOCKS (BUT WHITE?! I NEVER WEAR WHITE SOCKS, UNLESS I WORK OUT!) IN THE TUXEDO JACKET TO CHANGE AFTER THE CONCERT, AND HOW ALL THESE PEOPLE PROBABLY SAW THESE SOCKS FALLING OUT OF MY TUX AS I WAS PLAYING. I QUICKLY KICKED THE SOCKS INTO THE ORCHESTRA AND PRETENDED LIKE I HADN'T SEEN ANYTHING.
AFTER THE PERFORMANCE IN THE AUTOGRAPH SIGNING LINE A GENTLEMAN WALKED UP AND SAID. 'I AM SO SORRY, I HIT YOU ON STAGE WITH THOSE SOCKS. I WAS AIMING AT THE CONDUCTOR, BUT I MISSED'. IN TOTAL DISBELIEF, AND REALIZING THAT IT WASN'T ANYTHING THAT I HAD DONE, I ASKED THE GUY: WHY DID YOU THROW SOCKS?!?! HE SAID - "DIDN'T YOU SEE? THERE WERE SEVERAL PEOPLE THROWING SOCKS AT YOU, BECAUSE THE RADIO ADVERTISEMENT WAS ALL ABOUT HOW EVERYBODY SHOULD ATTEND THE CONCERT, BECAUSE IT WOULD 'KNOCK YOUR SOCKS OFF' (an American saying in order to describe something really good). SO, ... WE BROUGHT SOME BRAND NEW SOCKS ALONG..." I WAS THOROUGHLY RELIEVED...

What is the highlight of your career as rock musician?
I DON'T THINK THAT I CAN TALK ABOUT THAT YET, BECAUSE I'VE YET TO ACHIEVED ANYTHING IN THIS GENRE TO BE WORTH BRAGGING ABOUT. ONE OF THE COOLEST THINGS, EVEN THOU GH IT WAS JUST A SHORT 40 MINUTE SESSION, WAS PLAYING WITH STEVE VAI. IT IS NOT EVERY DAY THAT YOU GET TO TRADE LICKS WITH A CALIBER OF A MUSICIAN THAT STEVE IS. AND IT SURE WAS STRANGE PLAYING MY OWN COMPOSITION CALLED "FANTASY" ON HIS KORG AND HAVING HIM IMPROVISE THE GUITAR SOLO. I REALLY RESPECT STEVE NOT ONLY AS A MUSICIAN, BUT ALSO AS THE TYPE OF PERSON HE IS, WHAT HE STANDS FOR, HOW HE THINKS AND WHAT HE DOES WITH HIS LIFE AND CAREER.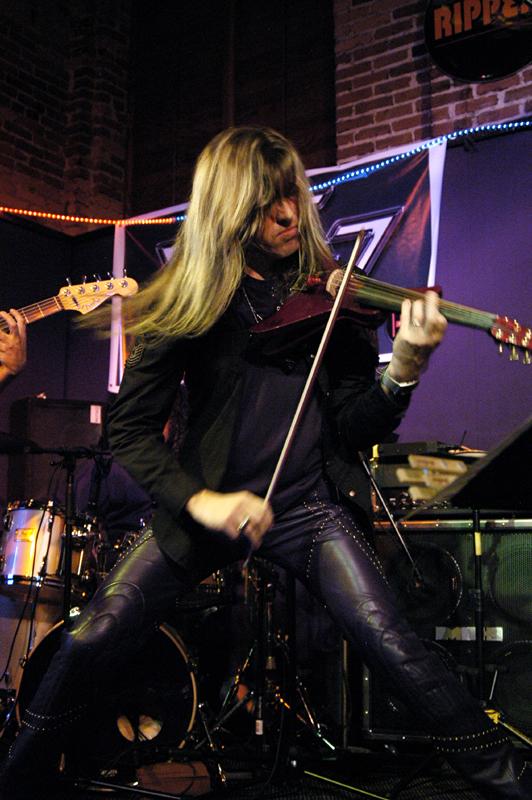 Anyone you would love to meet, that you have not met yet?
YOU KNOW, I'VE BEEN ASKED THAT QUESTION MANY TIMES AND I USUALLY SAY THIS: I ALWAYS ENJOY TALKING TO (LEARNING FROM) SOMEBODY WHO HAS BUILT SOMETHING ON THEIR OWN. IT COULD BE A SELF-MADE BUSINESSMAN, MUSICIAN, SPORTS STAR OF SOME SORT, IN FACT, ANYBODY THAT HAD COME UP WITH A SYSTEM ON HOW THEY REACHED WHAT THEY HAD REACHED. IT HAS ALWAYS BEEN VERY INSPIRATIONAL TOWARDS VIOLIN PRACTICE ROUTINES, WRITING AND PURSUING NEW GOALS FOR MY MUSIC.

What is your opinion about the Blizz Of Rock?(blizzofrock. com)
NOW THINKING BACK AT THE FIRST TIME I BROWSED AROUND THE SITE, I THOUGHT; WOW, HOW NEAT THAT THERE ARE PEOPLE LIKE OVE WHO ACTUALLY INVEST THIS HUGE AMOUNT OF TIME THAT IT TAKES TO PUT TOGETHER THINGS LIKE THIS. IT IS CRUCIAL FOR THE MUSIC IN ORDER TO SURVIVE! JUST BY LOOKING AT THE PEOPLE REPRESENTED I FELT LIKE AT HOME RIGHT AWAY. I WAS 'BACK IN THE HIGH-SCHOOL AGAIN, SKIPPING CLASSES TO RUN HOME AND CRANK THE LATEST ALBUM I HAD GOTTEN AT THE TIME'. BRAVO, OVE!

Thank you so much Armand and Vio 7 for using time to answer these questions.
Blizz of rock wishes Vio 7 all the best, take care Armand and keep in touch