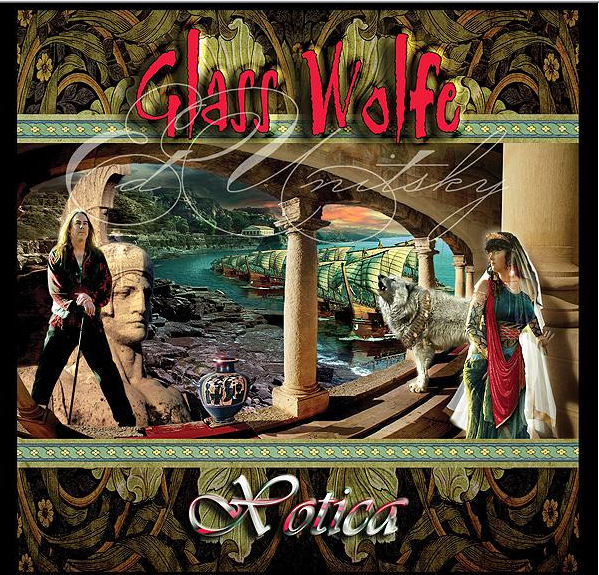 Interview with Maria Glass and Philip Wolfe from Glass Wolfe by Ove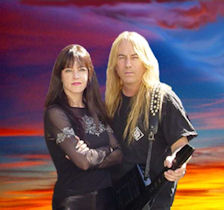 Hello Maria Glass and Philip Wolfe, how are you? Thank you so much for giving Blizz Of Rock this interview
Maria K. Glass - Hello Ove and our friends at Blizz of Rock Radio. We are very well and happy to do this interview!
First of all Maria and Philip, I'm honored to talk to the lead singer and the composer behind the great rock band Glass Wolfe.
Philip Wolfe - Thank you Ove ... we are honored that you asked us to do this interview.
When was the band Glass Wolfe formed? What is the story behind the name?
PW - We formed in late 1998 ... as for the name .... Basically .. the only cool sounding names that we could find that were not already taken by other bands were Glass and Wolfe. I did initially want to call it the "Philip Wolfe Symphony Orchestra" (LOL) but I got a lot of resistance from Maria.
MKG - Considering the "symphony" part of our music didn't really come into play until our second CD (on a couple songs), that name probably wasn't a good fit at the time! Anyway, we came up with a few different names, but Glass Wolfe seemed the best. It is us ... and what are the odds you would have members with names that go together and have imagery?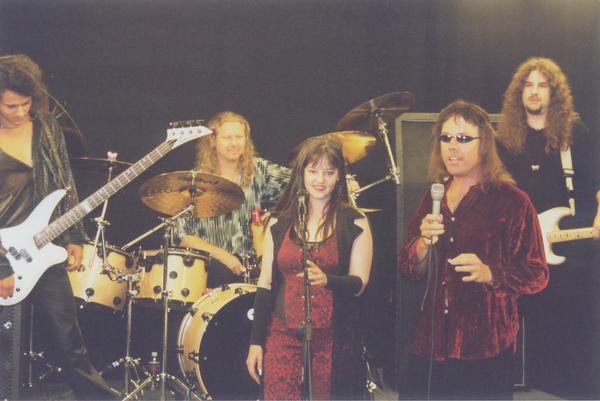 Maria: When did you know that it was music that was "The right way" to go?
MKG - I've always loved music and it has been a big part of my life, but I started out writing. I have been writing poems, stories, etc. since I was about 7 years old. When I came to Los Angeles, I met a lot of musicians. That got me thinking about how I could incorporate my writing with music and I eventually started writing lyrics. I don't know if that is "the right way", but for me, it combined two passions of mine, allowed me to be creative and have fun as well.
Maria, have you been singing in other bands too? What band would you like to sing in, if you could choose from any level
MKG - I've sang in a couple of other projects - cover bands mostly. Being in Glass Wolfe gives me all the elements of what I enjoy most in music. If I had to pick a band other than Glass Wolfe, I guess I would like to sing in a symphonic metal band like Nightwish, Epica or something similar. I think musicially they are very interesting and vocally challenging.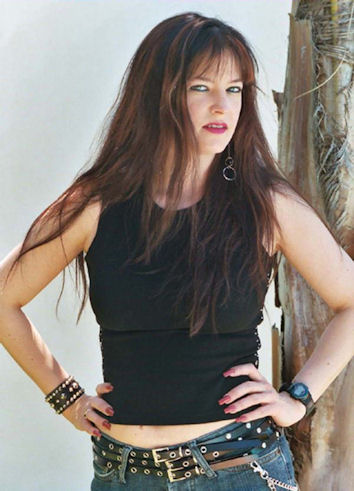 Philip, rumors!!! LOL How about them? Now I have the chance to ask you about your career so far. You've been in this game for a long long time, please tell us a few things from the past from the meeting with small bands like "Wasp" "Vinnie Vincent" "Keel" "Iron Maiden" and if I don't recall wrong I think I even heard the name "Black Sabbath" What's the story?
PW - I was in a band with Rudy Sarzo and Tommy Aldridge called NRG (check it out on YouTube). We were writing together and showcasing for many major labels but, after about a year, we were not signed and Rudy and Tommy went on to Whitesnake. I went on to work with Chris Impellitteri on what started out to be an instrumental album but then we got Graham Bonnet as our singer and "Stand in Line" was released (1987). We went to Japan and played the Tokyo Dome and a few smaller venues then returned to LA and filmed the MTV video. I was also recording with Vinnie Vincent (KISS) and orchestrating his songwriting which led to me playing on VVI "All Systems Go". Within the next year I was also working with KEEL on their next Album and I co-wrote "Dreams Are Not Enough" with Ron Keel. I left Impellitteri in 1990 after musical differences and tried to pursue my own songwriting. Some of the songs that I started later ended up on my solo abum "LIFEFORCE" (1996). I was also still working with Paul Daniels of Rox Diamond and showcasing with them. While teaching the keyboard course for Musicians Instutite in Hollywood (1992), I got a call from WASP to go on tour in support of the "Crimson Idol" album which had us playing Monsters of Rock in Europe opening up for Black Sabbath (Dio was the singer) and Iron Maiden and a tour of the USA, Canada and Japan.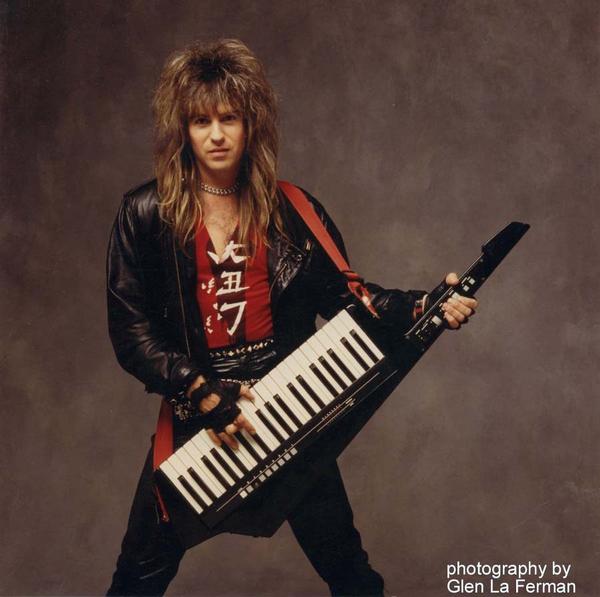 How would you describe the music from Glass Wolfe?
PW - Well ... it has evolved from our 1st CD. It started as classic rock and 80's metal then got even more metal with OZZY and Rainbow influences on the PREDATOR CD then morphed into the symphonic metal style with some prog rock influences on our latest release XOTICA.
MKG - It has elements of symphonic metal, hard rock and progressive. It seems to straddle a few different genres.
If I've done my homework you released your debut album in October 2001 named "Glass Wolfe" How did that come about?
PW - We had co-writen about 15 songs and then settled on the final 10. We each had five songs that we sang as a lead vocalist with the other singing back up.
MKG - It was a bit more mainstream rock than our later releases.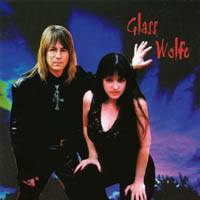 Glass Wolfe (2001)
Another Record was released 4 years later called "Predator" in 2005. And another Record again 4 years later called "Xotica"(2009) How would you describe the Glass Wolfes development through this time?
MKG - Well, once the debut came out we looked to put a more permanent band together that would record the next CD, which was "Predator". Those line-ups did not work out, but a few of the players did end up with tracks on "Predator". That's when Philip got the idea to contact musicians that he knew and had worked with before to round out the rest of the songs on the CD. We decided to do the same on "Xotica". We had some of the same players as on our previous releases (Neil Citron, Stuart Smith among others) as well as some new guest musicians like Rudy Sarzo, Chris Slade and Alex Masi. Additionally, our musical style evolved from mainstream rock to metal to progressive/symphonic metal.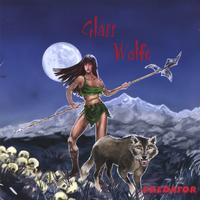 Predator (2005)
So if my math still works you've released three albums. Do you have more material for another record in the near future?
PW - Yes we are hard at work on the next CD with about 15 songs composed so far. As you might have guessed, it is the next evolution of Glass Wolfe with even more Symphonic, Prog and Metal ... but all in support of the singer and songwriting while trying to take our sound to the next level.
MKG - I have been in the studio working out melody lines for them and then will start writing the lyrics. And, yes, your math is still working. ;)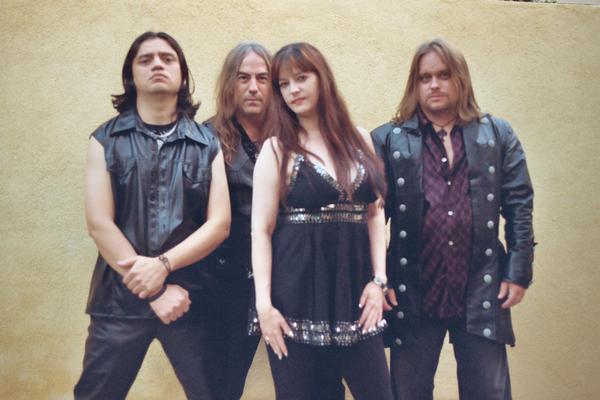 Where may we find the albums, where could we buy the music from Glass Wolfe?
PW - You can find the albums at Cdbaby and Itunes
"Second sight" is absolutely my favorite song, who wrote this masterpiece?
PW - Who actually writes anything ? In a Zen kind of way I feel that I am but an instrument and the music flows thru me.The lyrics of course were transmited from the astral planes through Maria ....
MKG - Our usual formula - Philip wrote the music and I wrote the lyrics and vocal melody. We are glad you like it !
Who design your webpage?(myspace)it looks really nice, great banners.
PW - The background art is from Ed Unitsky and Maria did all the banners
MKG - Stephen Manley was the photographer that took the pictures of Philip and I that Ed Unitsky embelleshed for the cover/banner. And I merely posted the banners as well as the slide show. Though we did create the Glass Wolfe banners that have the logo and the wolf in front of the columns.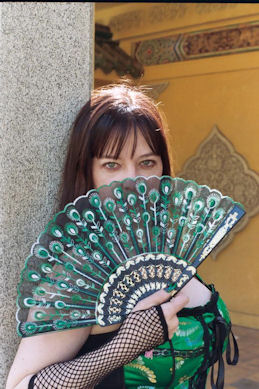 We've been lucky to have you guys in the chat from time to time, what is your opinion about the chat? Do you think other bands should join us? We have a "queue" that says ~we bring the artist to you~
PW - I have to admit that I was extremely reluctant to get into a "chat room" ... but after I got on the 1st one it was amazing .. I had a blast and stayed in for several hours and returned several times weeks later.
MKG - I always have a good time in the chat when I have the time to get on it. There are a lot of really cool people that visit it. Personally, I think it's a good tool for bands to get to know the DJ's that play their music as well as other bands and listeners. There are a couple of other stations that support Glass Wolfe but do not have a chat room and I have been urging them to get one based on my postive experience with the Blizz of Rock chat room and a couple of other ones.
Is it possible to see Glass Wolfe live on tour?
PW - Only with a really powerful telescope! But seriously ... we are trying to make that a reality in 2010.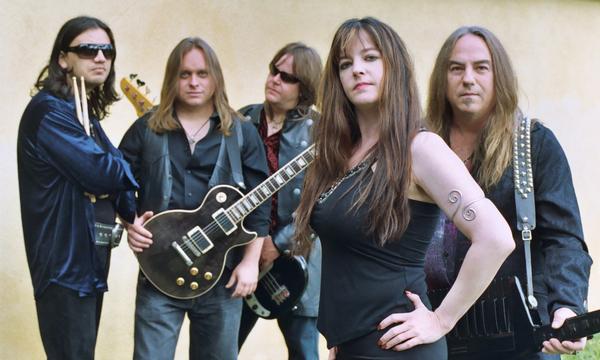 Any bands or artists you would love to have with you on your tour?
PW - Epica, Nightwish, Within Temptation, Kamelot
MKG - I agree with Philip and would also add Leaves' Eyes, Lacuna Coil and Queensryche.
If there was one place in the wide world that you could play Maria where would that be?
MKG - I would have to say, having been fascinated with this ancient city for a long time and researching it for a year for a potential storyline, the amphitheatre in Pompeii.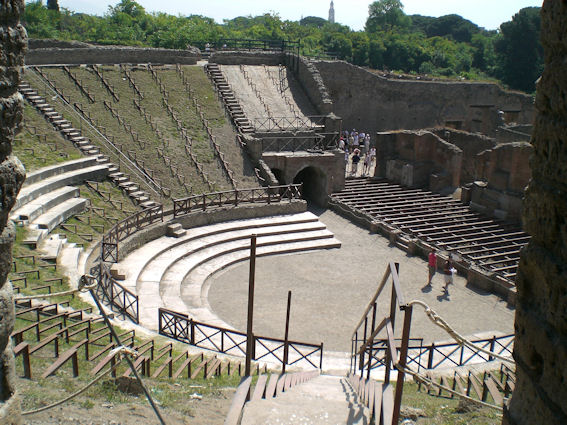 Glass Wolfe is a rock band. Where do you get your influence? Do you feel that Glass Wolfe got their own style?
PW - My early influences were 70's classic rock and prog like ELP, Yes, Styx, Asia, and 80's metal, especially Rainbow and Iron Maiden. Also Bach, Beethoven and a little Chopin.
MKG - My influences were 70's and 80's based metal and rock and the symphonic metal of the last ten years, female singers as well as male - Saraya, Heart, Pat Benatar, Queensryche, Kansas, Queen, Nightwish, Within Temptation, After Forever, Epica, Luca Turilli's Dreamquest, etc. I think our varied influences lend to a diverse style that crosses a few different musical camps.
What's your opinion about bands back from the 80's and 90's is coming back and releasing new albums and heading for tours?
PW - It's about time .. there were a lot of great bands from that era! But I have to say that as a musician and composer I feel that I have moved on into the 21st century with the new and exciting symphonic metal genre.
MKG - Kudo's to them for making it happen! But I feel similar to Philip in that, as much as I loved that era and music, the music of the symphonic metal genre is much more interesting and exciting to me - especially being a female vocalist.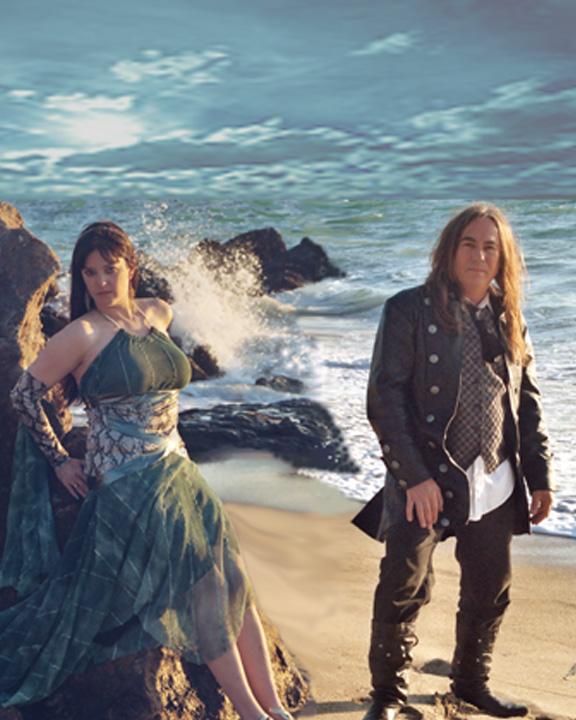 What sort of age group are you attracting with your music?
MKG - We have played various clubs and festivals and we have attracted anywhere from teens to people in their 50's.
PW - As evidence the charts and graphs from JANGO airplay, ages from 15 to 50 and with almost a 50 - 50 split between the male and female fans.
If you got the chance to have a concert in Norway, what could we expect from Glass Wolfe?
PW - As an opening act ... a short but tight set of our best and most recent material from XOTICA .. as a headliner ... over 90 minutes of material from our past 3 CD's and maybe some new songs as well !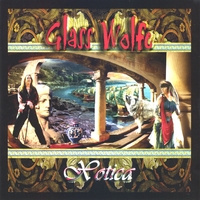 Xotica (2009)
Do you know any Norwegian bands?
PW - Norway has bands ? No but seriously ... one of my favorite composers is Edvard Grieg (Hall of the Mt. King).
MKG - I know that Roy Khan of Kamelot hails from Oslo and I think that band is fantastic. And Liv Kristine from Leaves' Eyes is from Norway as well.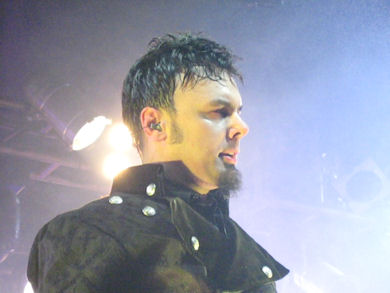 Roy Khan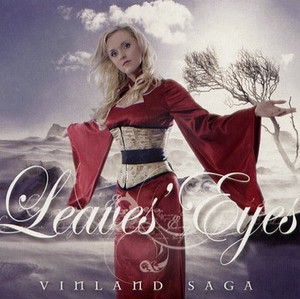 Liv Kristine
Philip: Any instruments you would love to learn how to play, that you don't?
PW - I sort of regret not learning the guitar or cello, but I feel thats it's too late now and besides ...there are still plenty of keyboard pieces to learn ... enough for a few more lifetimes.
Would you like Blizz of Rock Radio to play your music?
MKG - Blizz of Rock is already playing at least 4 Glass Wolfe songs and for that we thank you. More to follow . . .
Maria: what is the funniest story about Philip?
MKG - Well, I don't know if this is "the funniest" story, but it always makes me chuckle when I think of it. We had a black male German Shepherd / Lab mix dog, Ninja, who passed away last year at 14 1/2 years old. When Ninja was about a year old, we decided to take him to a dog park that was nearby and lets all the dogs run free in a fenced area. There were all breeds and sizes of dogs there. Well, Ninja took off chasing one dog after another while Philip chased him trying to rein him in. While I sat at one of the picnic tables watching, I would see a small dog (like a poodle) run one way, Ninja chasing it, and then Philip chasing Ninja. Then Ninja would chase a different dog the other way, again with Philip bringing up the rear and never quite catching up. This went on multiple times. It was quite funny to watch. Ninja was also trying to hump most of the dogs there - big or small, male or female - while Philip would be trying to get him off the various dogs. The icing on the cake came when Ninja ran up to the water bowl for all the dogs and peed in it. I was pretending I didn't know this dog. It was like an episode of Benny Hill or Ozzy Osborne's reality show. Philip was exhausted as well as embarassed after all this and Ninja never saw that dog park again!
Philip: What is the craziest thing Maria have done?
PW - We went to eat seafood at the fanciest seafood restaurant in Montreal. It took an hour by taxi. They had very small tables, oversized menus and the place was packed except for the table next to us. After being seated, getting our drinks and looking over the menu's we smelled a burning smell like there was a fire in the building. I was looking around to see where it was coming from and noticed that the corner of Maria's menu was on fire ! .. from the candle on the table next to us. The menu was so big it covered the table next to us and the candle lit it on fire. We did not want to waste the wine so we put it out with our drinking water. Of course the whole restaurant was now looking at us, much to our embarassment.
If you could turn back the time and choose a new date to start a band, when would that be? And why this year/decade?
PW - I would go back in time to about 1700 and of course bring my computer, recording software, mic's, solar battery and keyboards and hang out with J. S. Bach, Handel and Vivaldi. After one of them taking me under his wing as his apprentice and years of study with the master, I would then travel to Vienna and put together a musical ensemble featuring an operatic female soprano. Having in my hard drive all of the future scores , compositions and midi files of those to come later in the centuries I would be able to "invent" all the newest musical trends and styles and bring the influences of rock, jazz, and metal to the 18th century and change musical history.
MKG - That's a hard one to answer. I always listened to 80's rock/metal and a lot of 70's music. But, I really love the symphonic metal genre, which has only been around the last ten years or so. It has elements of a number of great musical styles. So, I probably wouldn't turn back time that far.
What is the highlight of your career as rock musician?
PW - I can't really pick one, so here are several ..... playing the Tokyo Dome in front of 100,000 with Impellitteri (and being #1 on the charts in Japan 1988), Monsters of Rock with Iron Maiden and Black Sabbath when I toured with WASP (1992), playing in my ELP tribute The Endless Enigma , and now finally playing my own compositions with Glass Wolfe.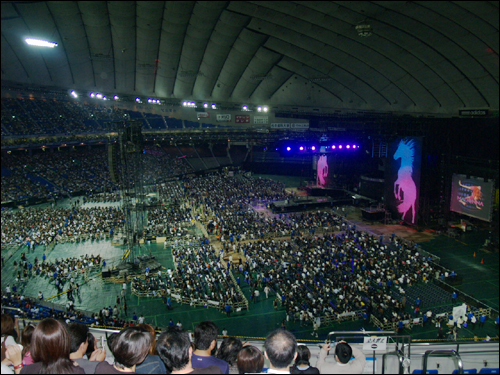 Tokyo Dome
MKG - I don't think I've experienced it yet.
What makes you happy, Maria and Philip?
MKG - A lot of things. I love singing and writing lyrics, playing to a great audience, reading (usually biographies of historical figures, old movie stars, musicians, true crime), listening to great bands and geting the chance to see them live, watching DVD's of movies I really enjoy, my cat "Cinnamon" (a calico - she will be 18 years old at the end of February), watching Animal Planet, walking or riding my bike around the neighborhood, dining at great restaurants - stuff like that.
PW - Producing music, writing songs, performing a classical piano piece, teaching a child to play the piano, a good martial arts action / adventure movie and playing our music on a stage to an appreciative audience.
Anyone you would love to meet, that you have not met yet?
PW - Nostradamus
MKG - I would say John Walsh from America's Most Wanted. Here is a man whose little boy was horribly murdered and that event alone would have devastated the life of many parents. And yet, John Walsh took that tragedy and used it to advocate for children's rights and to eventually host a tv show that saved lives, found missing children, and brought many, many criminals to justice. I think of the John List case - a man who murdered his mother, wife and three children in 1971 and lived free in Colorado under a new name for almost twenty years. It was America's Most Wanted that brought this dispicable fugitive to justice so long after the crime had been committed. John Walsh has made a difference in so many lives and I truly admire him for that.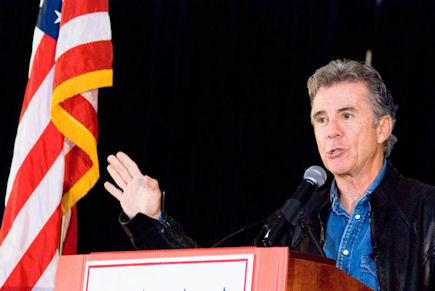 John Walsh
If the band received 100.000$, and had to give it to a good cause, what or who would that be?
PW - Haiti earthquake relief
MKG - I would definitely give a portion to Haiti earthquake relief but I am also a huge animal lover so I would be compelled to give to various animal charities like ASPCA, PETA, Humane Society and others like them. It breaks my heart to see how many people mistreat animals.
What is your opinion about Blizz Of Rock? (www.blizzofrock.com)
PW - You guys ROCK ! But the girls RULE !!
MKG - I like Blizz of Rock because they play kick ass rock tunes and have an arsenal of great DJ's who are conscious of who is in the chat and, if they are bands, play their songs. I've gotten to know some of the people who are regularly in the chat and I've found them to be very friendly and easy to get along with. Blizz of Rock seems very supportive of the bands they play and that is awesome.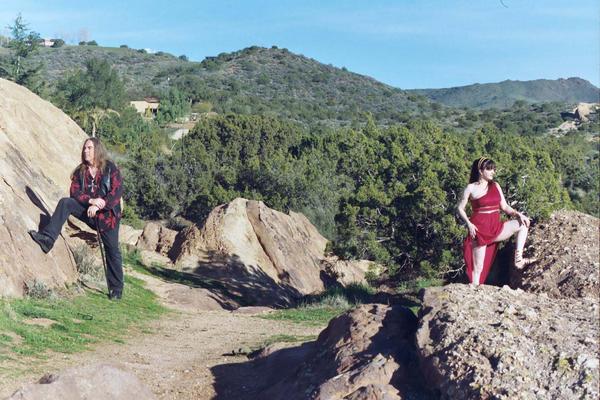 Who would you like Blizz Of Rock to make an interview with?
MKG - Well, given my love of the symphonic metal scene, I would have to say either Tarja Turunen (formerly of Nightwish), Simone Simons (Epica), Floor Jansen (fomerly of After Forever) or Sharon Den Adel (Within Temptation). See - I gave you four to pick from! :)
PW - Rick Wakeman
Thank you so much Maria, Philip and Glass Wolfe for using time to answer these questions.
Blizz of rock wishes Glass Wolfe all the best, take care Maria and Philip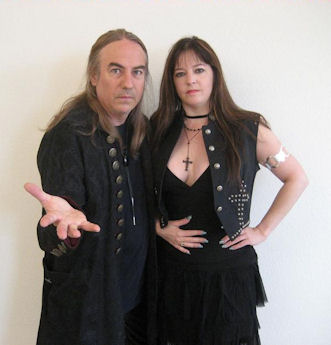 MKG/PW - Thank you, Ove, for this interview and thanks to Blizz of Rock Radio and it's wonderful DJ's for their friendship and support of Glass Wolfe!!